As you probably know, videos can come in a variety of formats, and not all devices are compatible with all of them. In some cases, you may need to download special apps or players to play certain formats, but in others, even that may not work.
Instead of attempting to find a way to play certain videos each and every time you encounter an incompatible format, all you really need is Movavi Video Converter. As a video converter, it will let you switch your videos between any formats under the sun – meaning that you can make sure they are always compatible.
For a closer look at how it does that, let's explore Movavi Video Converter in more detail.
User Interface
As soon as you launch Movavi Video Converter, you'll be greeted by a relatively clean and modern user interface. Its design is fairly intuitive, with a large 'Drag your files here' notice that lets you know how you can quickly add files to the software, alongside an 'Add Media' button prominently positioned in the upper left that does the same.
In addition to that, the lower part of the user interface comprises of the formats that you can convert to – neatly organized in tabs such as 'Popular,' 'Video,' 'Devices,' 'Audio,' 'Images,' and 'Custom.' From that, it should be clear that Movavi Video Converter can not only convert video formats but also audio and images and has presets that are tailored to various devices.
Let's Start with Movavi Video Converter
Because of its intuitive user interface, getting started and converting videos is relatively straightforward and you can add as many videos as you want, pick a format or preset, and click on the 'Convert' button to begin. Its support for audio and image files will open up other possibilities – such as extracting audio tracks or creating animated GIFs out of videos.
If you want to adjust the destination folder where converted videos will be saved by default you can click on the 'folder' icon next to the 'Save to' field. On top of that, you could also manually adjust the video settings such as the resolution, frame rate, or bitrate – or choose to compress it down to a particular file size.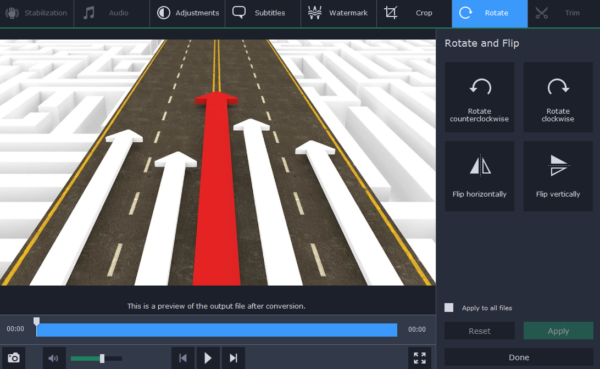 Within Movavi Video Converter there are several editing features as well that will let you cut and join video segments, improve the video quality, fix shaky segments, insert customizable text, or crop and rotate the video. While these features may be less than what is in a full-fledged video editor, they are certainly sufficient to tweak and adjust videos in small ways.
Pros:
Intuitive and easy to use making it suitable for beginners.

Tons of additional features that extend far beyond a normal video converter.
Cons:
Does not have advanced editing options such as special effects.
Verdict:
All in all Movavi Video Converter is an excellent video converter that will make it easy to convert videos regardless of your level of experience. The additional features that it includes make it versatile, and will open up several other options too.