As we all know that the gaming industry is witnessing a surge amidst COVID 19 issue as many people are resorting to online game streaming. And the recent popularity of games like PUBG and Fortnite has paved the way for Gamers to take their gaming profession to another level. That said, the PC video games take a toll on the system as it requires extra RAM and hardware capacity. To solve the issue, many software providers are coming up with a PC performance booster to accommodate the heavy gameplays.
Now to find out the optimum gaming booster solutions in the market, we went through numerous web searches and testing. We've come up with an ideal software that caters to the specific performance-boosting requirement of gamers, it is called Smart Game Booster.
The Smart Game Booster is a simple to use third-party software that assists in boosting the performance of your PC. It works really effectively for any gamer who is looking for a smoothing gaming experience. The mechanism of the software functions by improving the FPS and processor efficiency simultaneously closing apps and processes that aren't needed for gaming with simple one click.
User-Interface 
When it comes to the user-interface, the developers behind the software did a wonderful job in aligning the UI by making it a minimal and effective interface. For instance, the software interface comes with three easy options of PC Diagnostics, System Changes, and Disk Defragment that simply boost PC efficiency. It also allows you to take a screenshot or videos during the gameplay.
System & Hardware Requirements
Windows 10 / 8.1 / 8/7 / Vista / XP
100 MB free disk house
Screen resolution of 1024×768 and above
Features of Smart Game Booster 
Game Booster With Single Click (Boon for All Gamers)
This single feature makes the software impactful without any doubt. It comes with the functionality of a performance booster with one single click by click on "Boost" on the interface. The Smart Game booster amplifies the overall functioning of the system by ending unnecessary processes and clearing of RAM. It eventually maximizes the FPS potential.
Recording of Video Games
The software allows you to record video games without the help of any external or third-party screen recorder. You can initiate the screen recording simply by using some keyboard shortcut, by default you can start recording by pressing (Ctrl+Alt+V). Although you can set the individual shortcut keys within the settings. You can also do the sound test by testing if your speaker is properly connected and working by using an online sound test by PCgameboost.
CPU Temperature Monitor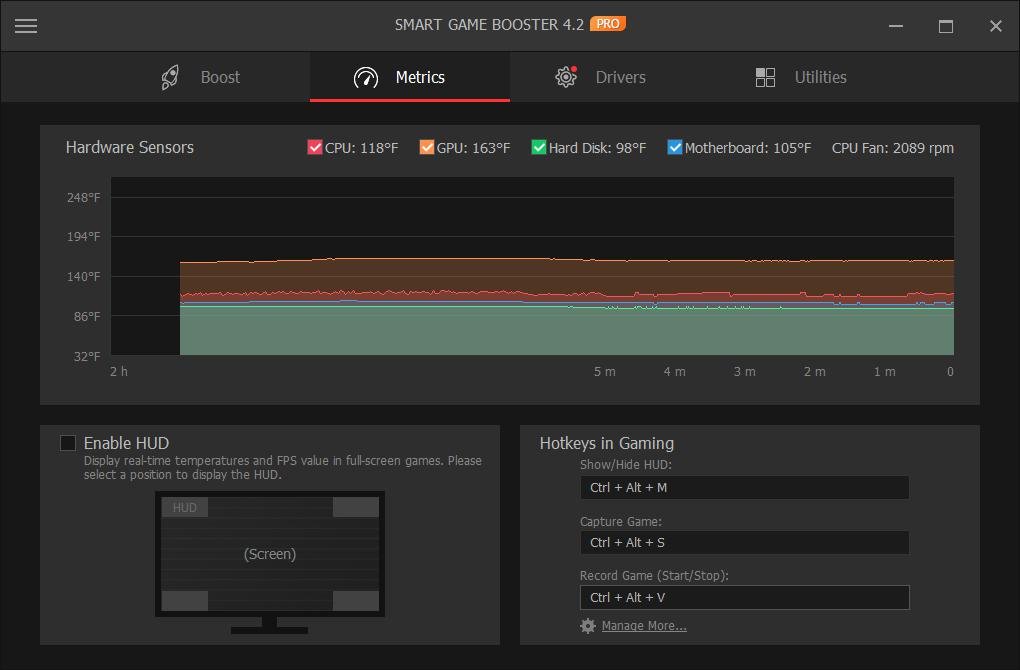 The software comes with a real-time CPU temp monitor feature that enables you to keep track of your CPU, GPU motherboard temperature. In addition to this, it also provides you with cooling fan velocity and warns you in case your FPS quantity drops to 60.
Driver Updation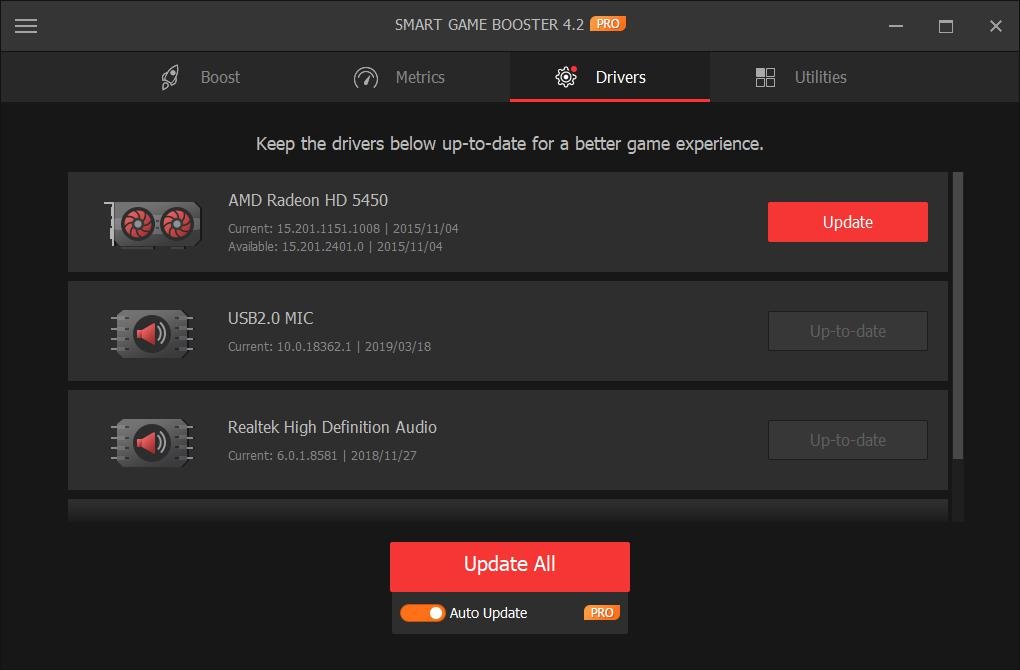 Many games face the issue of a driver getting outdated on a regular basis which drastically impacts the performance of FPS and attracts unnecessary system delays. The smart game boost easily eliminates the issue by automatically updating the drivers. It will significantly elevate your gaming experience by making it smoother.
How To Use Smart Game Booster Effectively:
Step 1: Primarily, you'll be required to install the Smart Game Booster on your system.
Step 2: Now run the setup program to install the same. You can either download the free version or the Premium one.
Step 3: Once you got the software, simply activate the program.
Step 4: Now you can launch the program and explore all the options you have.
Step 5: For better usage, simply click on the "Boost Button" to enhance your PC gaming performance.
Premium vs Free (Our opinion)
Well, you can get tons of features on the free version that include basic boost, defrag hard disks, real-time hardware temperatures monitor.
But, since you are talking about enhancing your PC gaming experience which is a big deal. In that case, we strongly recommend you to go for the premium version as it comes with advanced features which are long-lasting that include;
Super boost of PC performance up to 30% higher
Auto boost when launching games
Auto-update of drivers
Auto defrag of Hard disks
You can get the premium version for $17.99 for personal use with 1-year subscription.
Download
Here you can download the Smart Game Booster for your PC
Pros
Easy to use
Value for money
Effectively boost the PC performance
Customer Support
Cons
The free version comes with numerous limitations
Verdict
Smart Game Booster is an optimal solution for all the ardent games out there, the given software can significantly improve the performance of your PC by optimizing the ergonomics of the system. if you are in a tight budget and don't want to invest, then you can also go for the free version of it as it can also do wonders for your gaming experience. If you are sort of professional gamer or take gaming seriously, then the pro version is all you need to top-up your arsenal.
Smart Game Booster Review
Overall

User-Interface

Value For Money

Performance