As we all know that Apple's iOS is considered as the most stable platform and that's the primary reason a majority of the people across the globe uses iOS-based devices like iPhone, iPad, or iPod as their daily driver. That said, even the best things come with shortcomings and it is quite evident when it comes to managing and syncing of these iOS devices with PC. Though iTunes is there to cater all your iOS management related needs, the hidden problem lies in the complex interface of iTunes itself. That's where IOTransfer 3, an iOS manager and iPhone transfer software comes into the picture that serves all the requirement of an iOS user; right from transferring files from iOS devices to other devices or download videos from streaming sites.
So Let's find out how this software functions and what pros and cons are associated with IOTrasnfer 3:
User-Interface
As far as the user interface goes, the IOTransfer team did the scenic job in constructing and designing the IOTransfer 3 interface for its customers. That said, the software comes with an easy to use interface that communicates really well with its end user and allows anyone to use it tenderly with the help of short tutorials. The whole functionality of the software is wizard-based and you are not required to do any kind of manual set-up to run the application.
Features of IOTransfer 3:
One Click Transfer: The software enables you to organize and transfer numerous media files that include contacts, music, photos, videos and more. Also, the software gives you the option of contact and data backup.
Video Downloader: IOTransfer 3 also works as an online video downloader as it allows you to download videos from temporal streaming websites like YouTube. You can easily download vides without any hassle using IOTransfer's video download functionality.
Video Converter: The software is well versed with the task of converting videos to other formats like AVI, MP3, MP4, FLV etc.
Wireless Transfer: This particular feature can easily eradicate the whole use of USB cable considering the software allows you to wirelessly transfer the media files between iOS devices, other devices, and PC.
Deep Phone Clean: This feature is pretty useful as it simply helps you in removing the useless files from your device without the intervention of any third-party app or software. That simply allows you to enjoy more space for your important files.
In addition to the aforementioned features, the GIF maker is another extension of IOTransfer's capacity to elevate creativity to a different dimension. The feature simply allows you to create high-quality GIFs with videos on YouTube, Facebook or Instagram, etc., and transfer to your iOS devices.
Let's Start with IOTransfer 3
Step 1:  At first, you will be required to install the IOTransfer on your system. Once the software is installed, you simply need to launch the application and connect your iOS device either with USB or via Wi-Fi.
After the device is connected, you will see a screen with various options on top which include Manage, Clean, Videos, and Air-Trans. Then you can select any of the options as per your need.  Apart from that, you can also see the direct option of "Transfer to PC", the feature that allows you to copy all your contacts, music, photos, and videos to your PC.
Step 2: Now that you are done with the mainstream process of managing and transferring of iOS data. You can also see the files in details by simply clicking on the "Manage" tab and see the file previews and details.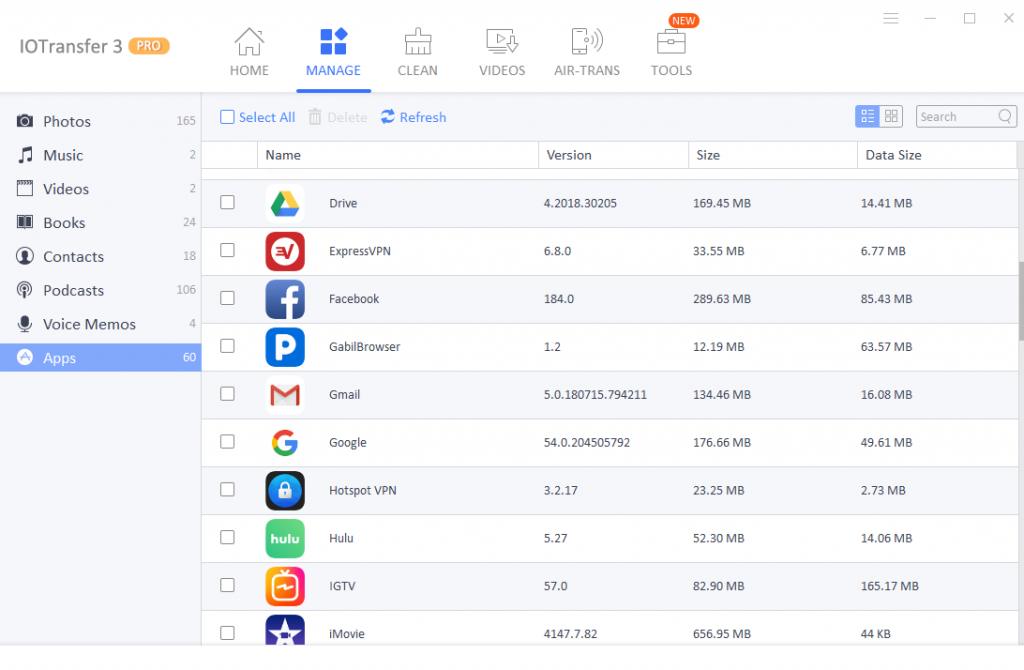 Step 3: If you want to clean up your junk files, then you can easily do this by clicking on "Clean" menu and you will see a screen > then simply click on "Scan my iPhone" to remove all the trash files.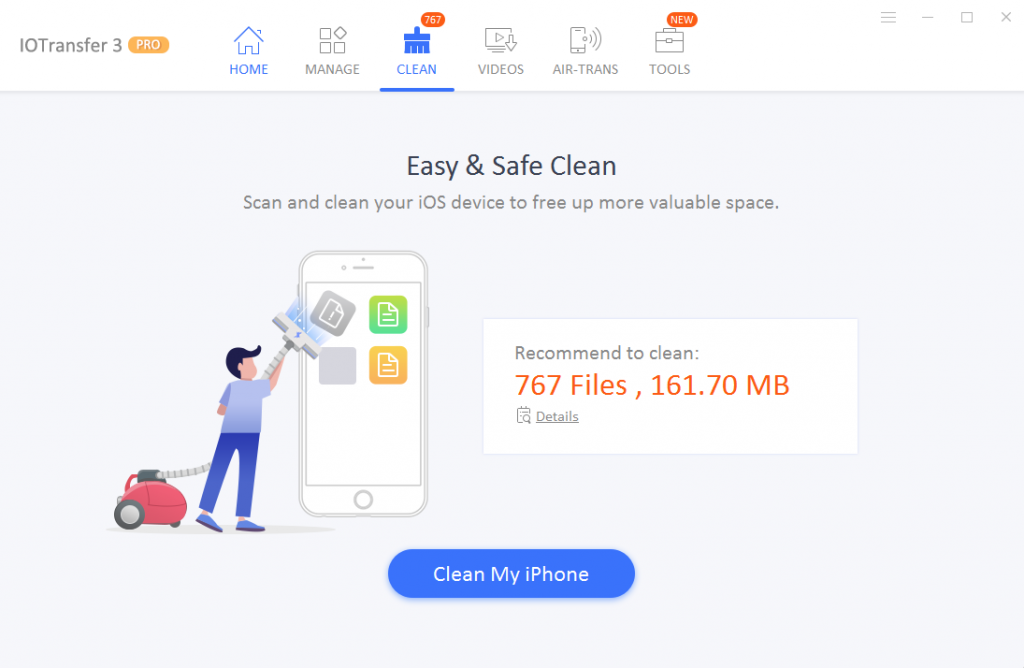 Step 4: If you want to download any video, you can simply do this by selecting the required video option and add video URL in the given slot > Then click on Download to start downloading the video.
Download
You can download the iOTransfer 3 software from here.
Verdict 
IOTransfer 3 is an ideal software for all the iOS device users considering the software provides the one-stop solution for proper management of iOS devices which includes an easy transfer of photos/music/videos/contacts between iPhone, iPad, iPod, and PC.
Pros
User-Friendly Interface
Multiple Language Support
Credible Video Downloader
Cons
The free version is restricted in features, you will need pro version for best utilization