As we all know that the world of smartphone technology is evolving at an agile rate, and in today's scenario, smartphones are becoming an essential part of people's day-to-day routine work. As of now, we have multiple smartphone OS (operating system) ecosystems which include Android, iOS, Windows, etc and arrival of new handsets with some amazing features on every other day always encourages us to shift to buy a new one.
At the same time, buying a new smartphone is always stimulant, but the irritating element that is associated with a new smartphone is that the buyer has to transfer his data that include contacts, messages, pictures, videos from old smartphone to new smartphone manually.
In addition to this, some players like Microsoft is enabling the Lumia device users to save their contacts on an online account but the situation isn't similar for Android and iOS users. And in case, you are planning to switch platforms, like Android to iOS or iOS to Android then situation become even worse to handle.
Although you can find the number of ways to transfer the data from one phone to another, these methods are even complicated to understand, and an average internet user can't execute such hacks quickly.
In the middle of all these, Wondershare MobileTrans comes into the action, a software that allows you to transfer the data from an old phone to a new one via PC. Let's see how the product functions and what pros and cons are associated with the MobileTrans.
Introduction
Mobiletrans is a software tool from Wondershare, one of the reputed software manufacturers, which you can use for transferring data from one smartphone to another without any hassle and security risk. The software enables you to transfer all types of data like contacts, messages, pictures, videos, and other files from one device to another across multiple platforms like Android, iOS, Blackberry and Symbian.
Let's Start With Wondershare MobileTrans
The installation process of MobileTrans is much easier, and anyone with a simple PC knowledge can perform this task. At first, you have to download either the full software (paid version) or the trial version of MobileTrans from the official website of Wondershare, which will not consume your much time. Once you are done with the downloading procedure of software, you have to go through a simple installation process, and now you're ready with the software, then you can open the window of MobileTrans, which will look like in the following image.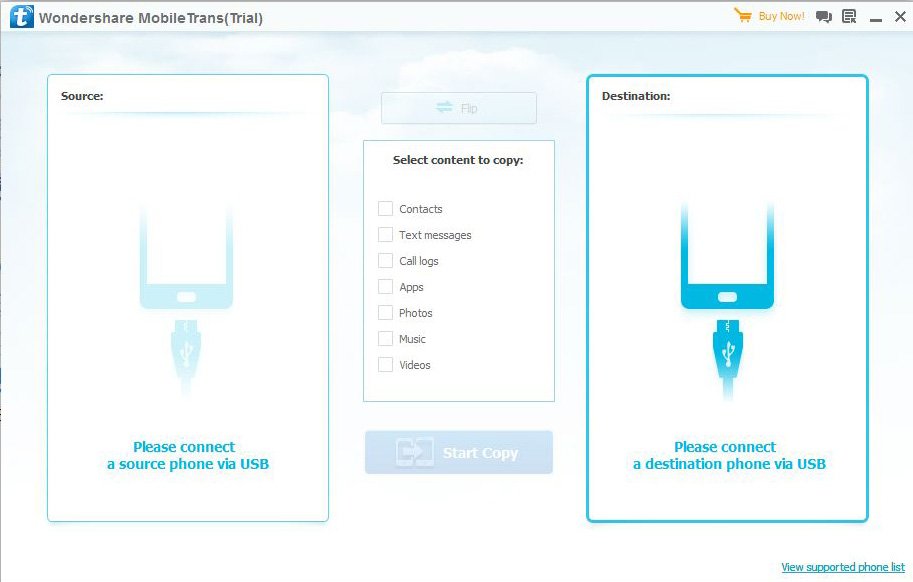 Transferring Data Using MobileTrans
After the completion of installation process, you have to launch the app, and then you will be given two options to perform the task, either through direct phone-to-phone transfer or by using the backup method. After both phones are plugged in via USB port on PC then you opt direct transfer, the software will read the data on the old phone and provide you the catalog of the data that's compatible for the new phone.
But at the same, the software is unable to perform impossible tasks, like when you are transferring data from iPhone to Android, the App section will be deselected, as this type of transfer is not possible. Now you have to select, what contents you want to copy and aim device using the flip button, you can initiate the copy procedure by click on "Start Copy" tab.
Now you have to select, what you would like to copy between these devices and aim device using the flip button, you can initiate the copy procedure by click on "Start Copy" tab.
The whole transfer procedure might take some time. Although data like contacts, call logs, images, and calendar entry won't consume didn't take much time to transfer, messages take a considerable amount of time. For instance, transferring 1000 messages from an iOS to an Android device can take around 3 hours for the completion of transfer procedure.
Additional Features
The MobileTrans software also contains some noteworthy specifications, which make the transfer process easier for novice PC users.
Broad Range of Supported Devices: The Wondershare MobileTrans has a wide range of supported smartphones and even iPad, the software use to support devices from various brand that includes Apple, Samsung, HTC, Nokia, Motorola, Blackberry, Sony, Huawei etc.
Securely Erase Data From Old Phone: Once you have transferred all your data from old phone to a new one, then you can securely erase data from your old smartphone with the help of MobileTrans.
Support For Carrier Variant Devices: The software allows you to transfer the data between two devices belongs to different carriers, like Verizon & Sprint.
The Software has low system requirement and runs on all standard Windows version that includes XP, Vista, 7, 8, 8.1 and 10.
Pros
Easy to Install and Operate
Supports All mainstream smartphones
Low System Requirement
User-friendly UI
Cons
Trial Version is not effective
Support for Windows OS running Smartphones is missing
Verdict
Overall the Wondershare Mobiletrans is an authentic and convenient method to transfer the data from an old smartphone to a new one without any hassle. And this software is an ideal option for those who carries average knowledge regarding PC and Internet technicalities. In addition to this, We would recommend you to go for paid version of the software as the trial version will not gonna help you in effective way as it only transfers 5 contacts from one device to another.