As we all know that the default application Apple wants and expects iOS consumers to use, is iTunes for interface with iOS devices. Though iTunes works efficiently but it has some limitations in terms of features that sometimes annoys iOS device owners such as the inability to export media from their iPhones to their computers. And we all know iTunes is not effective when it comes to Windows platform, it can really slow on Windows system.
Here WinX Media Trans is capable of fixing the issues which are associated with iTunes. In simple terms, it is the iOS device manager software that acts as media files transferring with speed. With the help of this software, you can easily synchronize the media files to and from the iPhone iPad and the Windows PC.
We used the WinX MediaTrans software, and tried and explored out all of its features. Here in this review, we'll see how the product functions and what pros and cons are allied with WinX MediaTrns, So that you can extract most out of this software.
User-Interface
As I have mentioned this 'aspect' numerous times in my reviews, the User-interface is the key component when it comes to the success of any software, website, or app because that's where the user interacts with the software.
And as far as WinX MediaTrns's UI  is concerned, its interface is very easy to use. It has a menu with few options on it:
Voice & Ringtone
Flash Drive
Settings
Photo Transfer
Music Manager
Video
Book
and it is feasible for anybody to install and run the program. Also, if Compared to iTunes, Winx MediaTrans feels fast and simple to use.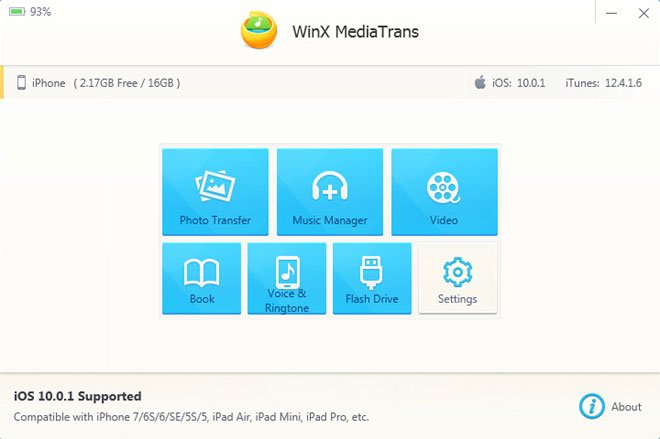 Let's start with WinX MediaTrans
At first, you need to install the software, once it is installed you are required to double click the icon and it starts.
Once you have installed the software and open it, the system will inspect for the presence of iTunes. If it is not already installed on your system, you'll be asked to install it and it also provides the browser link for you to do so
And once the software is running, you can simply plug in your iPhone or iPad to the computer via USB.  In case, your iPhone is already plugged in, you might need to unplug it, and plug it in again. Addition to that, you may also get this notification:
If that is the case, you must do accordingly, change the setting of the click box in preferences.
After all those miscellaneous tasks, you are all set to go. Now you'll be presented with the dashboard. Right from here, you can easily perform all the basic file management tasks you require with your iPhone or iPad.
Photo Transfer
By clicking on the 'Photo Transfer' option, it automatically opens up the photos on the device (arranged by their respective album names. This photo transfer feature enables the users to export the photos from their iPhones to the computer.
They show up in a MediaTrans folder in your Pictures library—you can change the save location in the Settings screen. Overall, it's pretty quick.
You can export the photos either one by one or they can be exported by selecting multiple images at once. Simply, there are two methods that the user can select multiple images:
Select All: This option let you select all the images in the album.
Click and Drag: This option enables users to select multiple images by clicking and dragging the mouse to select multiple images and export them using the software.
Music Transfer
The key feature of WinX Media Trans is its ability to export the music from iPhone to the PC and vice verse, as you can easily transfer the free music to iPhone iPad without any internet connection.
And the good part is that the synchronization of the music is proper between iPhone and the PC. Also, you can easily organize your iPhone music playlists and tweak with your playlists by creating, editing, or deleting them.
Video Transfer 
Media Trans really works wonders in this department, with Media Trans, you can convert any video file to an iOS compatible video. And they are ready to watch on your iPhone or iPad.
I really liked this feature because I have noticed a handful of software in the market only supports formats like MP4, MP3, M4A, but WinX literally allows you to transfer any video of any format to iPhone iPad. Supported video file types include: mp4, rmvb, wmv, avi, mkv, mov, m4v, flv, asf, 3gp, ts, ogg, 3g2 and f4v.
For some DRM protected movie videos that purchased from iTunes, we all know that it only played on the authorized Apple devices. But with WinX MediaTrans, you can easily remove the iTunes DRM, and transfer the movie video to other devices for playback!
You can convert them by selecting Add Video, browse to your file, and then click Convert. And these get saved into the 'Home Videos' folder on your phone or tablet.
Manage Your Ringtones
Basically, the full playlist is under the apparent control of the users. In simple term, it also works as a Voice & Ringtone manager for you to manage your iTunes U, podcast, ringtones.
That ultimately enables you to freely create, modify, manage, and transfer voice or ringtones as per your suitability.
Import iBooks to iPhone; Convert EPUB to PDF
This one is like 'icing on the cake', transferring of PDF, EPUB, MP3, audio books to and from your phone or iPad is an easy task. You can also convert EPUB to PDF, TXT, HTML.
Here the supported formats include epub, pdf, and mp3.
Just click on 'books' on the main interface > click 'Add book' button on the top to select the PDF files you'd like to add to iOS (10) iPhone iPad iBooks from the PC. Then tap the 'Sync' button on the right bottom to start adding PDF files to iBooks on iPhone, iPad, etc.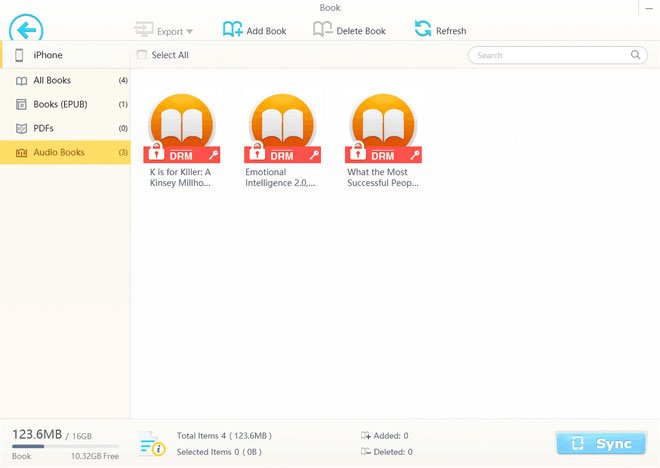 Mounting of the iPhone
This is one is the cool feature of WinX Media Trans, the software can easily mount your iPhone as a USB drive. That means you can easily store any sort of files on your iPhone. But here, I would recommend you to use this functionality just as a mean to keep your files safe and secure.
Conclusion
As far as the pricing of WinX Media Trans is concerned, it costs $29.95 for a single year on a single computer and $35.95 for a lifetime license for 2 computers. I would consider the software as an affordable option available in the market if we compare its pricing with the range of services the tool offers.
Although installing this software is not a necessity but more of a convenience for users. And if you are willing to sync your iPhone with iTunes, then definitely you are not required to have any sort of backup tool as such. But if you are looking for a seamless convenient method for iOS transfers of individual files then you must go with WinX MediaTrns.
Download
You can download the free version of WinX MediaTrans – a free copy to manage your iPhone files now. Also, you can upgrade to the premium version of the software.
Pros
User-Interface is simple
Easy to install and operate
Easy to transfer media files from iOS devices to Windows PC
Cons
The software is for convenience. Hence, may not be necessarily required.
About Digiarty Software,
With 10 years of experience in the industry, Digiarty is now a leader in personal and home-use video audi applications based on Windows and macOS. It provides fast and easy-to-use DVD ripper/copier/creator, video converter, online video downloader, media player, iPhone file manager, video audio streaming app, etc.