If you are an audiophile and have a Macbook then you must be aware of the fact that capturing audio on Mac is not an easy job. Since Mac doesn't inherently allow you to record audios from streaming music sites, it automatically makes the task of recording audio for the majority of the Mac users.
That's where the role of third-party apps comes into the picture but unfortunately, there is a lack of authentic audio recording apps for Mac.
After long research, we've come up with a trusted third-party app for audio recording software for Mac named Audio Capture by AudFree. In case you don't know, AudFree is one of the leading developers of DRM removal solutions for streaming music that includes its widely popular Spotify DRM removal.
So here we've come up with AudFree Audio Capture for Mac. And we'll be discussing all the pros and cons of the software so that you can extract the most out of the software.
User-Interface 
As far as the user interface is concerned, the AudFree team did the scenic work by maintaining a minimalistic yet effective interface for users. The software can be easily handled by an array of customers; right from the high-end to novice users.
Since the software is wizard-based, you will not be required to do any advanced configuration to make this application work. Overall the interface of Audio Capture for Mac interacts really well with its end user and allows anyone to use it with the help of short tutorials.
System & Hardware Requirements
Operating System: Mac OS X 10.8, 10.9, 10.10, 10.11, 10.12, 10.13 High Sierra, 10.14 Mojave
Processor: 1G Hz processor, or above
RAM: 512MB or higher RAM
Monitor: Monitor with 1024×768 pixels or higher resolution
Supported Input Formats
Audio Types: Streaming music, online radio stations, broadcasts, music games, video files, and any other sound playing on Mac
Supported Output Formats
Audio Formats: MP3, AAC, M4A, M4B, FLAC, WAV
Let's Start With AudFree Audio Capture for Mac 
Step 1: At first, you will need to install the Audree Audio Capture on your Mac. Once the software is installed, you simply have to enter the license key under the "register Option" to activate the program. (Note: Free Trial Version records only 1 minute of each audio track, So to extract the maximum benefit out of Audio Capture, you should have a fully licensed version)
Step 2: After launching the AudFree Audio Capture, you will see a list of mainstream apps on the main window such as Chrome, iTunes, Spotify, Firefox, etc. Since they are the commonly used media players installed on your Mac, you can access and capture the audio with only click only using any of these apps. In case, the app you want to record audio from doesn't show up on the main screen then you can simply click the '+' button to add the specific program to the main window.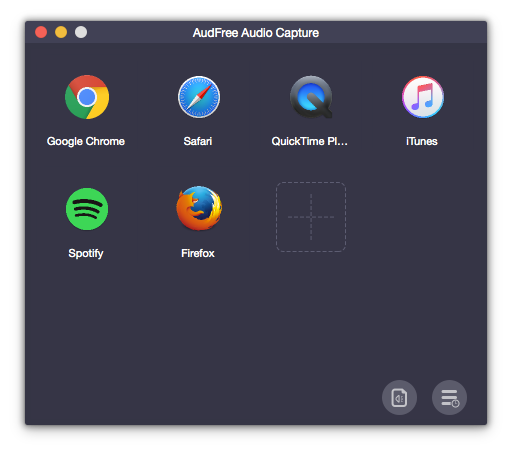 Step 3: Before proceeding with recording, you need to go to the bottom right corner to find the 'Audio Icon' and select the output audio format out of options such as MP3, WAV, AAC, M4A, M4B, FLAC and its parameters, like codec, bit rate, sample rate, and channel.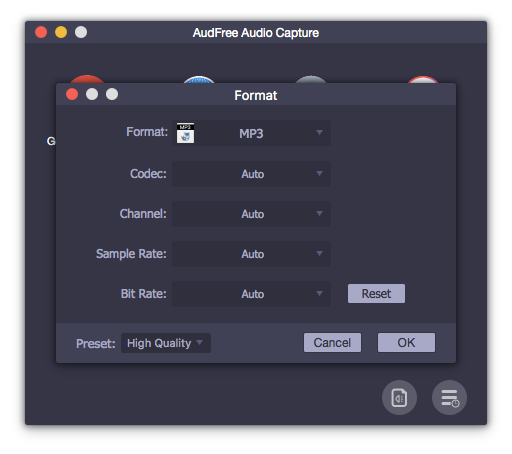 Step 4: Once the audio quality is set, now you will be required to select the audio source/app and start to play the music tracks you want to capture. After started, you will notice a new recording task is created in the recording window. You can also play multiple songs from a variety of sources at once and AudFree Audio Capture will record all the audios in real time and automatically identify the gaps between all tracks so that it can split them into independent files properly.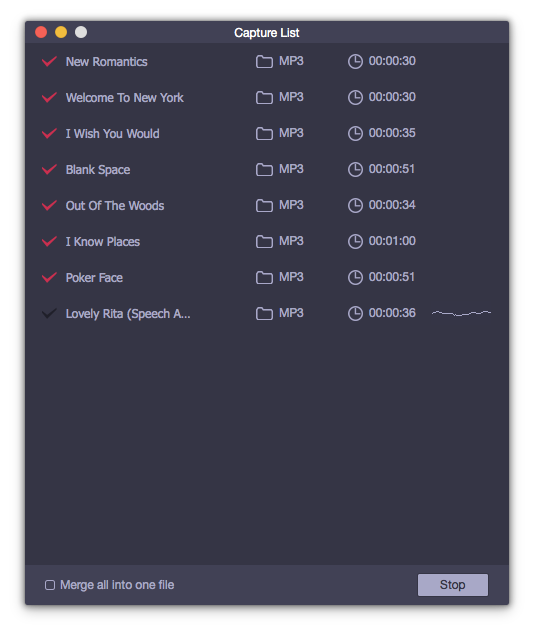 Step 5: Once you've finished capturing the audio, you can stop playing the audio in the specific program and close it. Now if you want to merge different recordings into one file, you should check the option of 'Merge into one' before quitting. To edit, you can click on the 'edit' icon in each audio column, so that you can split the audios to small clips. Additionally, you can also edit the ID3 tags manually, including the music cover, title, artist, year, and more.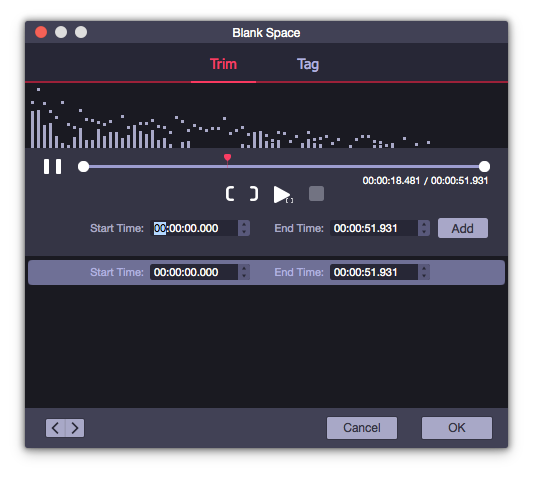 Once everything is done, you can click on the 'Save' button and it will store the recorded audios in high quality on your Mac. If you want to preview the recordings, you can simply click on the 'history' icon and it will show you all the records as a list.
Download
You can download the AudFree Audio Capture for Mac from here.
Verdict
AudFree Audio Capture is an optimum audio recording tool for all the Mac users as the software is effective and efficient enough to record any sound including streaming music and local songs play through Mac apps in lossless quality.
Pros
User-friendly software interface
Value for money
Effective as Audio capture tool
Cons
Some people might find the software costly
AudFree Audio Capture for Mac Review
Overall

User-Interface

Audio Capture Effectiveness

Value For Money