Valentine's Day is a day dedicated to spending time with your loved one and showing how much you love and appreciate them. Every year, Americans spend tens of billions of dollars celebrating Valentine's Day.
A lot of this money is spent on gifts. But what sorts of gifts are best to get for your wife, girlfriend or partner on Valentine's Day? Well, if you are struggling with ideas, this article is here to help. Keep reading to learn the top 10 Valentine's Day gifts for her.
Flowers
Few Valentine's Day gifts are as classic and timeless as flowers. They not only look great and add some brightness and fun to a room, but can also smell incredibly pleasant. Flowers come in all shapes, colors and sizes, so you should be able to find one that she will love. Also, be aware of the meaning behind the flowers, too. For example, orchids represent love and make a great gift on Valentine's Day.
Chocolates or Candy
A box of chocolates or candy is another common gift, and for good reason. They are delicious and no one can be upset about getting some of their favorite sweet treats. You can get them their favorites, or even consider getting them a few different options. Of course, make sure to get her something she likes
A New Piece of Technology
Few gifts are as exciting as technology, and there are always new pieces of tech coming out that make great gifts. This could be a new video game, a new pair of headphones, a smart speaker, a new phone, or a variety of other things. While they may not be as romantic as some of the other options, they will get a ton of use and be something she is very excited to open and utilize.
A Spa Treatment
Another solid option for a gift is a spa treatment. We lead busy lives, and giving your partner a nice spa day is a wonderful gesture. This treatment could be a massage, a facial, a pedicure, a manicure or any number of other services. There are many benefits of going to the spa such as increased relaxation, reduced stress, pain relief, better sleep and many others.
A Gift Basket
Instead of buying your partner a gift, another option could be to make them one. A good option here is a gift basket full of some of their favorite things. Simply get a basket, and then some way to wrap it up like plastic or bows. The basket can be filled with chocolate, skincare, candy, bath bombs and several other small items.
Jewelry
Jewelry is another common and fantastic gift to give on Valentine's day. Depending on what your girlfriend or wife wears, this could be a ring, a necklace, a bracelet, or even some earrings. While some jewelry can be expensive, others can be affordable on just about any budget. No one will be upset about getting a stunning piece of jewelry, so it is always a safe option.
A Candle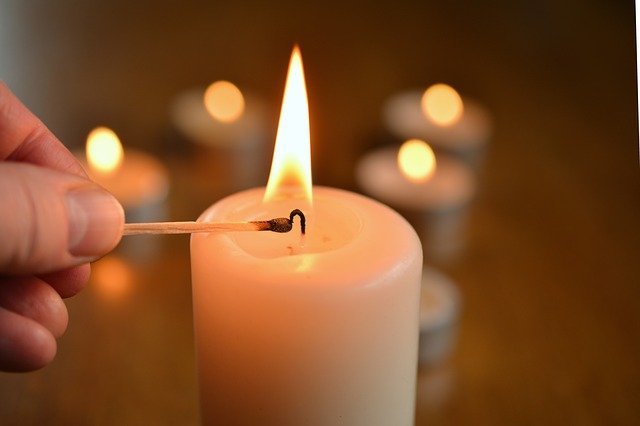 A candle is an underrated gift, but one that can be just as romantic as anything else. Candles come in many different scents, colors and designs, so finding one your partner will adore can be easy. It can be their favorite scent, a scent that brings back a particular memory or simply something that you think they will enjoy.
Something Personalized
A personalized gift is another great option, and one that shows you went a step further to get something they loved. You can personalize just about anything, from a wine bottle, to a candle, to some clothing, to jewelry, to luggage. You can personalize it by adding their name, or even adding something like a photo or their favorite quote.
Skincare Products
Skincare products can do some wonderful things for softening skin and helping it look incredible. You can give your wife or girlfriend anything from moisturizers, to toners, to cleansers, or even makeup. These products are sure to be loved, and it will save them from having to pick them up themselves. Be sure the products you give are things they actively enjoy or want to use, too.
Art
A nice piece of art can really bring a room together and makes another great gift. This could be for her office, for the bedroom, the living room, or anywhere else. Of course, make sure to get her art that relates to her interests, preferences and passions, as opposed to something at random. If you are so inclined, you could even create your own.
Any of these Valentine's Day gifts are sure to impress her and can show her how much you care and appreciate her.