Nowadays the Internet is becoming a significant aspect of our daily life routine, whether it is for searching information related to study, to order or purchase something online or to entertain oneself, everyone is dependent on one thing called "the Internet". But for us, net and online culture has been changed in a drastic manner as today's internet consumer no longer interested in using it as a medium of convenience only but to make a fortune out of it. That's why every individual who wants to make his or her presence online is seeking to create their website.
But when we think of website kind of stuff, it is not an easier task to manage or run it in an easy going manner, and that's where web hosting services comes into the role. In simple words, web hosting services are the foundation for any website, whether it is a blog, business or e-commerce site. When someone plans to create a website, the main hurdle is to evaluate a perfect web hosting platform from alternative options for a website. And at present, we are also going to review a web hosting service named "HostGator" so that you'll get plenty of knowledge regarding HostGator's services and this review will help you to decide whether it is perfect web hosting platform for your website or not.
Introduction
When we thought of reliable web hosting platform for our business related or professional blogging sites, it is hard to pick best out of the crowd as various hosting services are available to serve you. Hostgator is one of the most renowned and effective web hosting services; they use to offer a broad range of services but what we most liked about their services is their well-priced shared hosting plans. They offer three shared hosting plans which include Hatchling, Baby, and Business. Also to this, they are also known for their reseller plans, VPS hosting, and dedicated services. Before proceeding, we would like to tell you that Abrition.com have been hosted on Hostgator since 2012 and till date, we have never faced any issue with this service.
Shared Plans & Features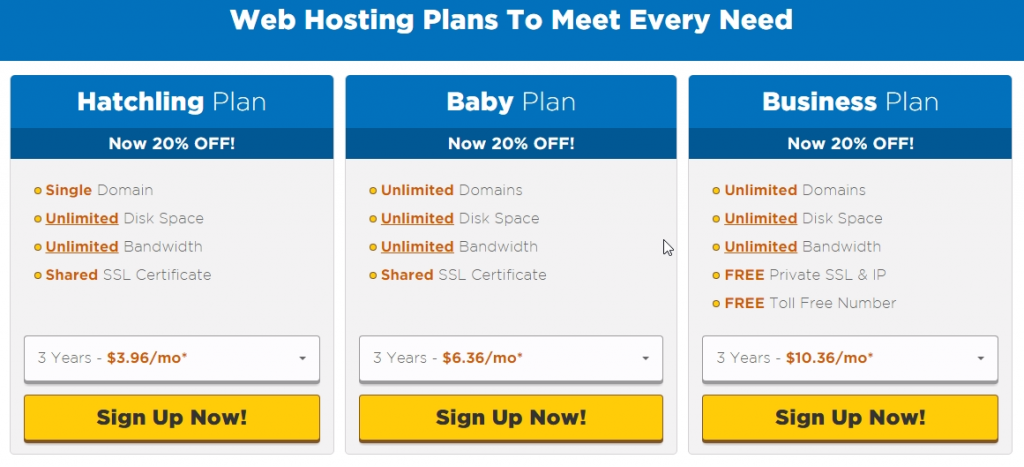 As we've mentioned above, Hostgator uses to offer three different web hosting shared plans to their customers which include Hatchling, Baby and Business Plan. So let's start with basic one, Hatchling Plan is single domain hosting but offers unlimited disk space, bandwidth and shared SSL certificate. On the other side, It's Baby Plan is most popular of all as it offers multiple domain hosting and comes with unlimited disk space, bandwidth and shared SSL Certificate (Note: Abrition.com also uses baby plan for Hostgator services). Another one is Business Plan which is superior of all other plans, It allows you to host unlimited domains, unlimited disk space, bandwidth services. Apart from these features, with a business plan you can also avail the benefits of Private SSL & IP (important from security's point of view for business purposes), toll-free number at free of cost.
These plans offer features and freebies such as cPanel, Unlimited space, bandwidth, Free $100 Google AdWords credit, Yahoo/Bing Credit, WordPress self-hosted compatible, Joomla, Drupal, Magneto Hosting, Free Weebly site builder, 4,500 free website templates, Free Website Transfer, Domain Transfer, MySQL Transfer, Script Transfer, Unlimited MySQL Databases with phpMyAdmin Access, Unlimited POP3 Email Accounts with SMTP, Unlimited Addon Domains (Except for Hatchling Plan), Unlimited Sub Domains, FTP Accounts.
Apart from these web hosting plans, Hostgator is also known for its reseller plan that is split into five plans (aluminium, copper, silver, gold and diamond) Depending on the disk space, bandwidth and domains that are required. But this particular plan is made for a whole different purpose, you can avail this plan if you want to earn money from your site by hosting your clients similar to Hostgator or any other hosting services.
Quick Specification List
Unlimited Bandwidth
Unlimited Storage
Unlimited Addon Domain (Excluding Hatchling Plan)
Unlimited FTP
Unlimited MySql Database
IP Deny Manager
Hotlink Protection
24*7 Customer Support (Call at this number '1-866-96-GATOR' any time)
45 Days Money Back Guarantee
WordPress, Joomla, Magneto, Wiki and other major Applications hosting
Cron Jobs
SSH Access
CGI, Fast CGI, PHP 5, Ruby on Rails, Perl, Python, SSL
FrontPage Extension
Control Panel
When it comes to Cpanel of any web hosting service, it is the most significant aspect while considering hosting platform for your site as it is the place where you'll do all the technical related stuff for your website. As we've told you that we are using Hostgator services for our site for almost four years, and its Cpanel consists all essential elements that require to maintain the solidity of a site. However, the outlook of Cpanel seems old fashion but it has nothing to do with performance, lacks a script library, but they aren't essential to web hosts.
Security & Uptime
It is always important for you to know the security level and uptime performance of your web hosting service because it is essential for your site to have fine security and uptime as it is the only way for your website to achieve its online goals in long run. But here you do not have to worry as Hostgator take care of security related issues because it includes Spam Assassin in each of its packages, a powerful spam protection program that actually keeps unwanted junk emails out of your inbox.
Apart from security related concept, Host Gator's data centers are located in Houston Texas where the company is based and their data center is equipped with top-notch level server that allows them to their 99.9% uptime guarantee, even at Abrition.com we never faced any serious downtime.
Customer Support
As far we are concerned, Customer support is the most significant element for any web hosting service. As web hosting, related things doesn't come naturally to common people and that's where the customer support staff plays a significant role in helping their customer in installing apps, services for their website. If we're talking about Hostgator, So they have done adequate job under help and support department as their site comprises all FAQs, forums and video tutorials that help users to know about basic things related to web hosting. Additionally, you can reach out to Hostgator officials directly through email, toll-free telephone or you can request for live chat.
Pricing Concern
When it comes to pricing, Hostgator scored full marks in this particular parameter as they are undoubtedly affordable with their well-priced shared hosting plans. They offer their plans in tenures of 1 month, 6 month, 1 year, 2 year and 3 year.
You can avail the discount of 25% on your final bill for any of three plans by using discount coupon (ABRITION25).
Concise details of all shared hosting plans:
Hatchling Plan:  Suitable for single blog or site- $7.16/mo (Monthly Plan), $7.16/mo (6 Months Plan), $5.56/mo (1 Year Plan), $4.76/mo (2 Years Plan), $3.96/mo (3 Years Plan)
Baby Plan; Ideal for multiple sites or blog- $7.96/mo (Monthly Plan), $7.96/mo (6 Months Plan), $7.96/mo (1 Year Plan), $7.16/mo (2 Years Plan), $6.36/mo (3 Years Plan)
Business Plan: Perfect for multiple sites with high-end security needs like Private IP, Toll free Number- $11.96/mo (Monthly Plan), $11.96/mo (6 Months Plan), $11.96/mo (1 Year Plan), $11.16/mo (2 Years Plan), $10.36/mo (3 Years Plan)
Pros
No Limitations on bandwidth and disk space.
Affordable Shared hosting plans.
Security & Uptime are reliable
24/7 Customer Support
Cons
Cpanel interface looks unsightly
Occasional long wait times for Live chat customer support
Hosting Plans

Security & Uptime

Pricing

Customer Support
Verdict
HostGator is a flexible and feature affluent web hosting platform. However, We know the fact that Cpanel interface and occasional long wait times for Live chat customer support are two concerns but still hostgator is a solid service for a complete hosting package. It sets an ideal platform for those who are new to owning a domain or blog.