To start off with, we'd say memory is consumed by every single element that you have on your Android phone. Be it the system storage, apps, data or duplicate data. While all others are unavoidable, duplicate files can be removed to recover more space. So what duplicate files exactly are?
It's the image that you just now sent to your friend via WhatsApp. It has got a copy of it in another hidden folder. The original one and the replica of it, both hog double space on your phone memory. Now you see how duplicate files clog most of the memory space on your phone..?
Deleting either of these images is no harm. A quick and reliable cleaning of your Android phone can be ascertained with Duplicate Files Fixer app. It an intuitive app that finds and removes duplicate files in quicks.
Summary
Duplicate Files Fixer lets you scan for exact duplicate files on your Android phone. It begins with giving five alternatives to scan for duplicates. These include scanning for Audio, Videos, Pictures, Documents & Full Scan. However, the app takes a few minutes to process your data and then comes up with the results. Upon finding the duplicates, it, by default marks the duplicate copies for deletion. Users can preview all files before they delete any. Finally, a tap on the delete button lets users remove duplicates.
The entire process of this duplicate media remover app is allocated in three steps- 'SCAN.MARK.DELETE'. But it has got some nifty features which make this duplicate file finder app different.
Adept marking options:

The app lists four options to mark duplicates. All of them assist to mark duplicates as per user convenience. Find the options in the screenshot below.
Settings:

As per the Settings of Duplicate Files Fixer, you can add any folder to ignore list. You can also customize scanning with filters for name, size, content, hidden folder and 0-byte size files.
Backup:

You can also backup files before you delete them. This will ensure the safety of files even if they have been removed from your phone. Duplicate Files Fixer lets you backup your files on cloud storage. For this, it directs you to install Right Backup app, an easy, safe and secure way to backup files on the cloud.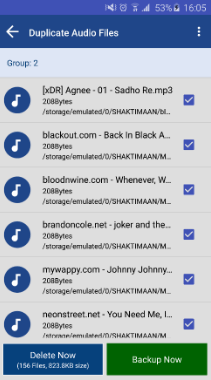 Conclusion
In a nutshell, Duplicate Files Fixer is worth using. It has an easy-to-go interface, smart features and above all its for free. You can delete hundreds of thousands duplicate files with this compact duplicate media remover app. Before we wrap up, we must inform you that it is reliable app with 4.1 stars on Play Store. It is also available for iOS, Windows, and Mac users.