As we all know that using iPhone or iOS devices in itself is a wholesome experience and no one can deny the fact that iOS devices provide you the user experience which is unmatchable when we compare it head to head with other platform devices such as Android or Windows.
But unfortunately, when it comes to managing iPhone or other iOS devices, you cannot simply connect it to your laptop or computer as you are required to use iTunes or other 3rd party iPhone manager software. That said, it is quite evident that iTunes comes with several limitations and that's where the DeabMob iPhone Manager comes into the picture. Unlike other iPhone manager applications, DearMob really surprised us with a range of features it accommodates.
So here we've come up with DearMob iPhone Manager. And we'll be discussing all the pros and cons of the software so that you can extract the most out of the software.
User-Interface
If we discuss the user-interface aspect of DearMob iPhone Manager then one can easily identify the fact that the UI of the software is structured in such a way that any kind of user right from the novice one to the expert can operate the software by referring to the official guide without any complications.
In addition to that, the iPhone Manager is simply a wizard-based and you are not required to indulge in any configuration process to use the application.
User Support
It is extremely important to consider the user-support aspect when you are buying any premium software for a price. If we analyze the customer-support element of DearMob then you can simply reach out to the team by dropping the email regarding any issue, you can find the company's email by referring to their contact us page. As far as our experience is concerned, the support team is quite active when it comes to responding to your queries with proper solution.
How to use DearMob iPhone Manager to backup iPhone without iTunes.
Firstly you will be required to install the DearMob iPhone Manager on your computer. Once it is installed, you need to follow the given procedure to back up iPhone without iTunes.
Step 1: At first, you will be required to connect your iPhone to your computer via USB cable.
Step 2: Then, Tap "Trust This Computer" on your iPhone screen.
Step 3: Once done, now launch the DearMob iPhone Manager and click "Backup".
Step 4: Now click on "Backup Now" and you will get a full iPhone backup file.
Backup iPhone Music Songs without iTunes: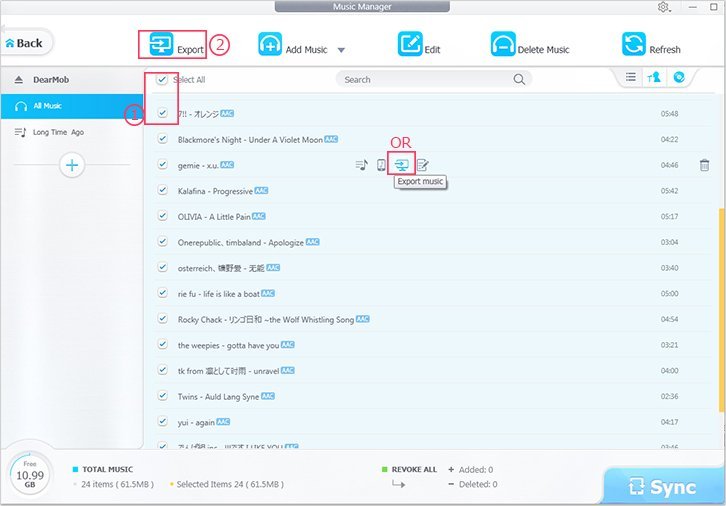 Similarly, you can also backup specific components like Music or videos using the following guidelines:
Step 1: Simply Launch DearMob iPhone Manager and click on "Music Manager" on the main interface.
Step 2: Then Select songs/playlists you'd like to backup.
Step 3: Click "Export" button to backup iPhone songs without iTunes
Additionally, you can also backup your iTunes purchased music by referring to purchased songs shown in a list tagged with "DRM" > Simply click on "Export" option and you will get a message saying "This song is protected by iTunes DRM" > click on "Decode", and you will unlock the iTunes restrictions and be able to backup iTunes Library on any computer without any issue.
Download
You can download the DearMob iPhone Manager with a 1-year license (for 1 computer) for $39.95 and a lifetime license for $47.95 (for 2 computers) and family license for $69.95 (for 3 computers).
Or
you can also download a free licensed copy of DearMob iPhone Manager from the giveaway.
Apart from that, they are also giving away iPad Mini, Amazon eGift Card, and free licenses for sister software Videoproc. So go and check out https://www.5kplayer.com/iphone-manager/ to learn more about the giveaway and win yourself an iPad Mini this summer.
Verdict
DearMob iPhone Manager is by far the most comprehensive and effective iPhone manager tool. The application gives you the complete freedom to control your iOS device and an ideal replacement of iTunes. In addition to this, DearMob allows you to backup & restore your files without any hassle. In short, if you are looking for a fully-fledged iPhone manager software then your quest ends here.
Pros
Easy To Use
User-Friendly Interface
Value For Money
Quick Performance
Cons
Official documentation of the software is a bit flustered
DearMob iPhone Manager Review
Overall

User-Interface

Effectiveness

Value For Money