1. NUTELLA PANCAKES FROM IVY AND BEAN, SHAHPUR JAT, NEW DELHI
Since last year India has seen an emerging craze for pancakes.  A pancake (or hotcake, griddlecake, or flapjack) is a flat cake, often thin and round, prepared from a starch-based batter that may contain eggs, milk, and butter and cooked on a hot surface such as frying pan, often frying with oil or butter.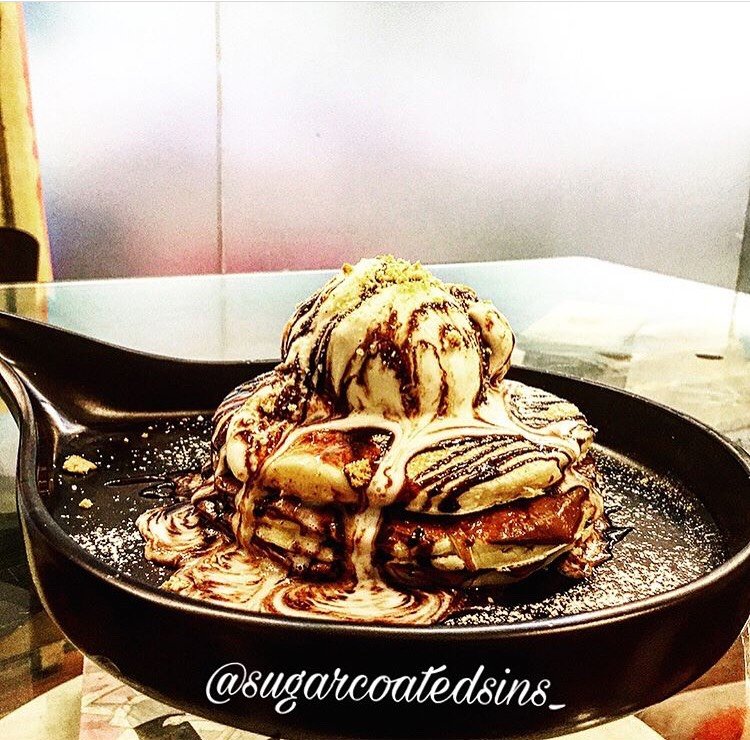 Ivy and Bean Ivy & Bean is a cutesy cafe located in Shahpur Jat. After visiting this place I can say it is an ideal place for a romantic evening or if you just want to have a 'me time'. They serve a variety of pancakes. Being chocoholic I got my hands on Nutella Pancake and after eating one serving I literally craved more.🤤 The gooey chocolate and Nutella are a cherry on top. There is only 1 person who was serving and trusts me, even though the place was freaking crowded he kept calm and served the dishes on time. If you are in Shahpur Jat this place is a must go!
2. GULAB KHEER, HOMEMADE
Gulab kheer is one of the yummiest thandi kheers I have ever had. Infused with kheer ingredients, the essence of rose and Rooh Afza  *Gulaabo*, In my opinion, it was something new which could be added to boring dessert menu at a party/ wedding. Must try. The rose petals and crushed dry fruits used for garnishing the kheer is a cherry on top of all the things! One can also make it with less sugar and in skimmed milk but what is a dessert with less sugar? A waste!   best tastes when served chilled and a small scoop of strawberry ice cream.
3. COOKIES AND CREAM BUBBLE WAFFLE, THE FUNNELHILL CREAMERY, GREEN PARK, NEW DELHI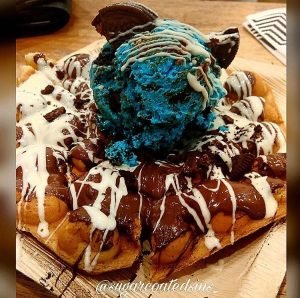 Just like pancakes, #waffles are really trending nowadays on the gram. We have many players in the market trying to play with flavors and making something new. So, this one I am talking about is a blue ice cream waffle? Yes, you read that very correct! This white chocolate topped waffle served with homemade cookie crunch ice cream done with chocolate sauce and cookie crumble  The pop blue color of the ice cream  is really eye-catching and tempting  *mouth waters* If I could I could really ask for a lifetime supply of it  One reason I would recommend you to eat here is they serve hot waffles and trust me nothing is better than hot, crispy and chocolate topped waffle.
4. COLD COFFEE WITH ICE CREAM, HOMEMADE
Don't we all need a cup of coffee to get away with all those exam stress, anxieties or post break up depression? Yes, we surely do. All you need to make a  cup of coffee is-
1/2 tsp coffee powder
sugar to taste
1 cup chilled milk
chocolate sauce
2-3 ice cubes
vanilla ice cream, as much as you want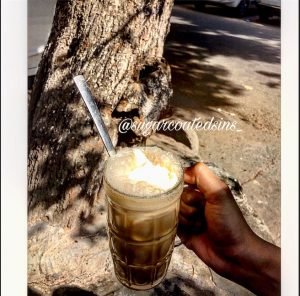 In a pan blend milk, coffee powder, sugar and vanilla ice cream. Depending on how thick coffee you want to drink add ice cream accordingly, but I would suggest do not put more than 1-1/2 scoops of ice cream. tadaa! Then in your favorite mug pour the coffee, add a scoop of vanilla ice cream and put as much as the chocolate sauce you want. And here it is ready to drink, your own self-made, cold coffee.
5. GREEN APPLE AND MELON SUMMER BEVERAGE, PHOKING, CHAMPA GALI, DELHI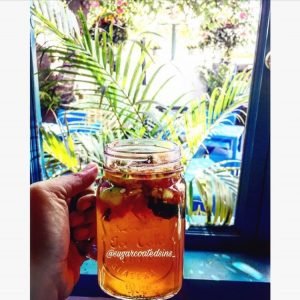 Beating the heat with the green apple and melon summer beverage which was looking awesome!  The icy summer beverage is a heaven in such a hot Delhi weather. One can't really deny having this. The taste is marvelous.  It is really refreshing and rejuvenating. Pho King Awesome is really aesthetic and if you are a fashion blogger and planning a shoot get it done here The serving is super fast and you would want to REVIENS ICI!
Editor's Note: Myself Pragati Gupta, I am not a cliche food blogger! Just a simple and sober South Delhi Girl who choose desserts over shopping. I am a girl with sweet teeth and not a tooth! Funny no? Currently pursuing mainstream Bcom Hons from Delhi University. I don't want to blow my own trumpets but I can hog desserts without any salt break and people envy me for that. You can follow on Instagram @sugarcoatedsins_