Las Vegas is an adult playground with endless opportunities for fun. If you're looking to vacation in Sin City, check out these apps to plan your trip and make sure you don't miss out on anything this exciting city has to offer.
Experience Las Vegas
Image via Apple.com
This free app for Apple and Android devices allows you to completely customize your Las Vegas vacation. By simply choosing which type of traveler you are, this app can offer recommendations for food, shopping, activities, resorts, and nightlife. So, shoppers can find the best boutiques and the hottest deals, while food lovers can learn which restaurants serve the best cocktails and cuisine. Plus, you can also use the app to find events that are nearby, access coupons, and even buy tickets.
TravelVegas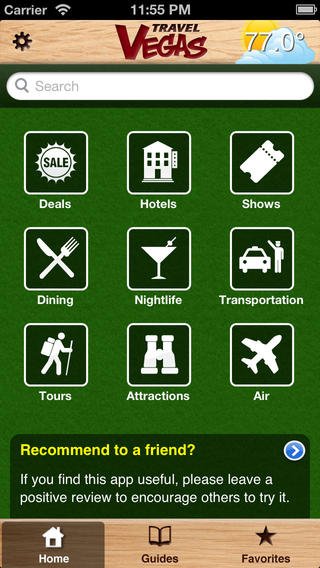 Image via iTunes
Available free on Apple devices, TravelVegas lets you find the best discounts on dining, attractions, and entertainment. Coupons for gambling credits, free drinks, discounts at restaurants, and tickets for shows are regularly updated throughout the day. Plus, you can even use the app to help you find your way around the city when you're there. An interactive map will show you restaurants, clubs, hotels, and shows that are nearby. Then, you can find indoor maps, menus, phone numbers, operating hours, and websites for places you want to visit.
myVEGAS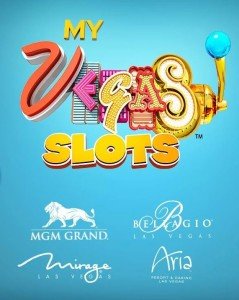 Image via Google Play
The myVEGAS app is free for both Android and Apple devices. On this app, you don't just get to play free slots games; you can also earn great rewards from entertainment partners such as Wolfgang Puck and Cirque du Soleil, and resorts such as MGM Grand, Bellagio, and ARIA. By simply playing any of the 14 games in the app, you can earn free nights at a hotel, tickets to some of the hottest shows on the Strip, private tables at exclusive restaurants, and other great comps you can use on your next trip.
Las Vegas City Guide
Image via Google Play
The Las Vegas City Guide app helps you plan the perfect trip. This free app for Android phones has plenty of information on hotels, restaurants, resorts, and attractions provided by TripAdvisor. Plus, all this information is stored in the app, so you can use it offline and not worry about using up your data package. The app provides thousands of user reviews so you can find honest and up-to-date information about any place you want to visit. Plus, by using the GPS in your phone, you can find which attractions and restaurants are nearby and use the compass to guide you there.
VegasMate
Image via iTunes
VegasMate helps you discover the best places to dine, shop, and be entertained while in Las Vegas. This free app for Apple devices has information on many resorts, clubs, and restaurants along the Strip and beyond. It provides both driving and walking directions to wherever you want to go, or you can use CabCheck to see how much it would cost to take a cab. If you're hungry, you can use the app to search for nearby restaurants and even view menus from certain restaurants. Plus, with OpenTable, you can quickly make restaurant reservations.
PokerCruncher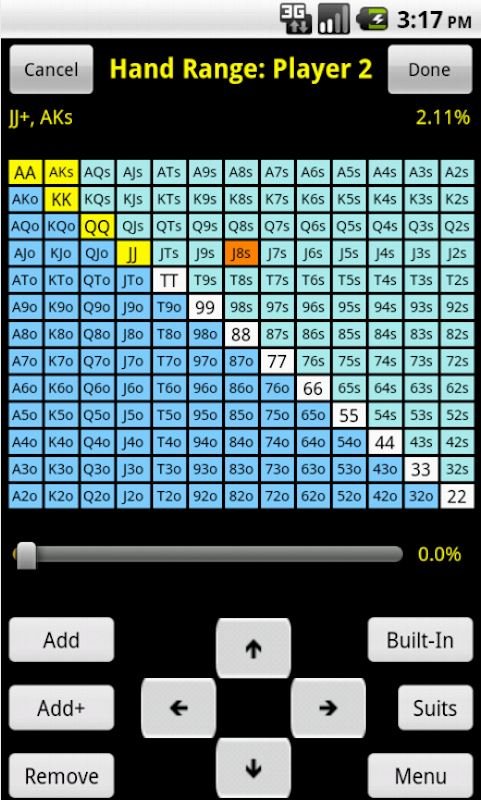 Image via Google Play
If you plan on playing some online poker while you're in Las Vegas, PokerCruncher can help you calculate your odds. At $4.99 for Apple and Android devices, you can use this app to calculate the odds for your own online play, or run a range of scenarios so you can learn more about the game. Remember, if you win big either online or in a casino, your winnings are taxable. The IRS requires that all players report their winnings, and some casinos may even withhold a percentage of your winnings for tax purposes. You want to make sure you calculate your taxable winnings so you don't spend everything you owe.
From earning rewards for your trip to finding exactly what you need while you're there, these apps are perfect for anyone planning a trip to Las Vegas. Before you visit the area, make sure you check them out so you can experience all the fun and excitement for which Las Vegas is known.