As the days grow warmer and longer, the season of barbecues, pool parties, weddings, and graduations comes into full swing. Spring is often a time for closet cleanouts and style makeovers, while summer means bathing suit shopping! Having the right mix of trendy new styles and wardrobe staples to offer your customers is essential. While every season brings about coveted new styles and reinvigorates shopping, the warmer months often get a lot of attention in the fashion world. We've got a list of wholesale boutique items you should stock to ensure you'll meet your customer's needs and attract new ones. Read on to find out what you should be ordering this season.
Bold & Bright Stripes
It's no secret that loud hues attract attention, so make sure your boutique has a selection of bold and bright options this season. This also applies to prints, so instead of going for your typical pastel, especially when it comes to florals, go for something with more intensity and saturation.
We love this mustard yellow striped maxi dress. With its simple silhouette and flirty slit, this is a perfect item to stock if your boutique caters to a customer shopping for dressy to semi-formal looks. Yellow, in a variety of tones, is on track to be one of the top trend colors this season. We're also really digging stripes as an alternative to classic spring and summer florals.
For a more casual take on stripes, knit two-piece coordinates are absolute perfection. Knits are always a sure bet for spring and summer, so when in doubt, these are the ideal wholesale boutique items to stock. More than ever, customers are looking for pieces that are comfortable and wearable while still being trendy and fashionable. Especially if your boutique is exclusively online, knit pants offer a greater range of flexibility and fit to women of varied sizes. Since activewear is now a huge segment of the women's apparel market, many fashion consumers have a heightened awareness of comfort and ease. Items like knit pants easily bridge the gap between more fashion-conscious consumers and activewear consumers.
Of course, a generous return policy is always a top selling point for online boutiques. Because shopping online does not allow the customer to try anything on prior to purchase, studies have shown that customers are much more likely to buy an item if they have the option to return it. Reading up on eCommerce trends is always a good idea if you're running an independent online boutique. While you may be a fashionista at heart, to be truly successful you'll also want to ensure you're not neglecting the business side of things.  
Fresh Florals
As we all know, florals for spring are groundbreaking. Break away from this trend as old as time and stock some fresh takes on floral motifs. Instead of a print, opt for folk art-inspired embroidery depicting flora and fauna, as seen on this cream-colored off-the-shoulder dress. Embroidery gives a luxurious, hand finished touch that stands out and is definitely going to be a big trend in 2018. One option is sourcing your stock from wholesale clothing distributors and then hiring a local company to do custom embroidery. This is a great way to differentiate your product from other clothing boutiques by beginning to offer things that are more unique than your typical wholesale boutique items.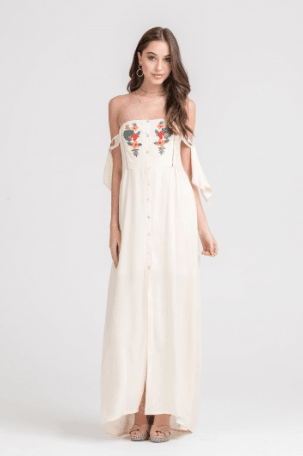 Another great option for product differentiation is customizing with screen printing. This is a cost-effective way to start branching into exclusive offerings. Offering a cloth tote screen printed with your boutique's logo as a free gift with a minimum purchase is an easy promotional opportunity. Other logo customized merchandise ideas include keychains, notebooks, tee shirts, and accessory pouches.
Of course, it's still a safe bet to stock some floral prints for the spring and summer seasons. Look for painterly, impressionistic takes on the traditional floral, as seen on this linen spaghetti strap mini dress. For 2018, we're loving florals that are more abstract and art-inspired. Last year, dainty and detailed florals were the look, but this year we'll be seeing florals that are big, bright, and bold. Counter a loud print with a simple silhouette, like the cami dress or wide leg pants. This season surface embellishment is taking a backseat to clean lines and tailoring.  
Sweet Ruffles
Tops like this gingham button up give us just the right amount of sweet country 1970s vibes with its ruffled yoke and sleeves. For spring and summer 2018, we'll be seeing lots of gingham and ruffles for the perfect amount of feminine details. When stocking this trend, look for blouses and dresses, then pair with denim outerwear, bottoms, and accessories. It's all about combining a touch of vintage-inspired country style with contemporary details.
The Classics
As much as it is important to have a finger on the pulse of current trends, no boutique merchandising is complete without a good selection of basic wardrobe staples. You'll want to make sure to have a variety of options, colors, and sizes. Wrap dresses, like this green polka-dot one, are always a go-to. They fit a variety of figures with ease and work for situations from casual to formal. It's also a good idea to have a selection of seasonally appropriate choices in plain solid colors, like sleeveless blouses, shorts, and sundresses.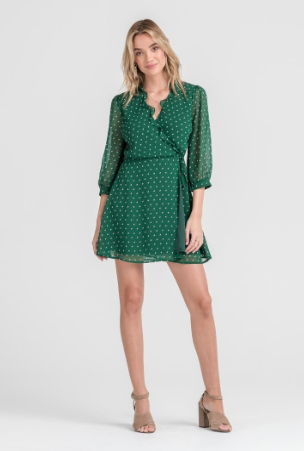 We hope this rundown of styles to stock aids your merchandising for the spring and summer 2018 seasons. As always, it's important to know your customer and target market. Spend time planning and strategizing and your boutique is sure to be a success.