Be it quirky or simple; women just know the trick right to make the whole affair with jewellery mesmerizing. In our everyday hassle, what is the most important and essential-looking jewellery which you never forget to carry with yourself? 98% of the population of women will answer – earrings, and yes they got the point.
Online earrings are in huge demand nowadays, and there is no point in arguing that they are winning the race from other stylish jewellery. And one can avail amazing patterns of earrings in online shopping and offline markets. Here are some noted quirky earrings online for women which can go well with both western and ethnic wears. Check them out…
Logo Written
Not only logo written but doodle made earrings also have grabbed the speed of the trend and women love to wear them with multicolored kurtis and sarees. They are generally larger and broader than the common ones and can be worn without any other jewelry. You don't need anything else to stand apart in the crowd, but these earrings will be enough for the rage.
Wear them with multi-hue saree and designer blouse.

Pair your complete attire with a pair of subtle sandals.
Pom Pom Earrings
Pom Poms pre-dominantly come from the world of textiles and women apparels but have fashionably intruded the world of jewelry. They look quite awesome when wore on ears as earrings and are available with fish hook closure. The squashy feel of these earrings is what makes them catchy and attractive.
Choose multicolored ones with moderate length to wear with every type of dress.

Avoid too much of metallic adherence; it will make the piece heavy for your delicate ears.
Dream Catcher Earrings
The idea is somewhat closer to pom pom earrings, but it is a prototype of the real dream catcher that you put on bed's front slab to shoo away bad dreams. Strings used to make these earrings can be metallic, plastic and fabricated as well.
Be it subtle or multicolored, they will surely protect you from bad omen, making your day perfect.

Open up your soft curls and hair spray will finalize your goddess-like look.
Paper Earrings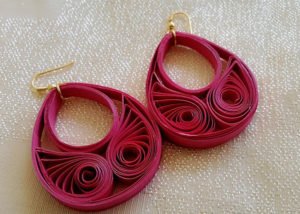 These are handmade earrings which are now available as jewellery online at IndiaRush as well. The papers used in these earrings are quite sturdy and hard to endure such massive rolls and twists.
Invest in them when wearing any doodle printed ethnic kurti or dress.

Tie up high bun to highlight the pretty glare of the jewelry.
Magnetic Earrings
Why should boys have all the fun? I think designer took this idea as their inspiration and made pretty and charming magnetic earrings for women also. You can also check them out while attending any casual hangout with friends, casual meet-up, college day with any casual and semi-formal wears.
Let the earrings be little dark to highlight themselves.

You are a stud when you're wearing this type of charms. So complete yourself by selecting Bohemian attires.