Jetting off to European region, exploring the beauty of cities regularly pictured in movies, enjoying a drink on a terrace while admiring the picturesque view of the medieval square. Yes, a long European vacation may sound dreamy and enjoyable. But there are some rules to follow when it comes to staying in Europe for an extended period without inviting troubles.
While planning a trip to Denmark with my friends, I was figuring out how to get past the 90-day restriction placed on tourist visas. After all, you can't stay beyond 90 days in the Schengen area, which is a very short time to enjoy the beauty of the entire region.
First and foremost, it is important to know that Europe isn't a monolithic region as there are varying visa requirements prevailing throughout the continent. So, when people talk about the '90-day limit', they're talking about restrictions on the Schengen Visa, which is the visa policy to govern 26 nations in Europe.
Let's first understand, what Schengen Visa is?
A Schengen Visa is the document issued by appropriate authorities to interested parties for visiting/travelling Schengen area, which includes 26 nations. These countries have entered into an agreement to abolish multiple visa and passport requirements to facilitate free movement of their citizens within this area. Not only most of the European countries have signed the agreement, some non-European nations, like Switzerland, Iceland, and Norway, also belong to the Schengen area.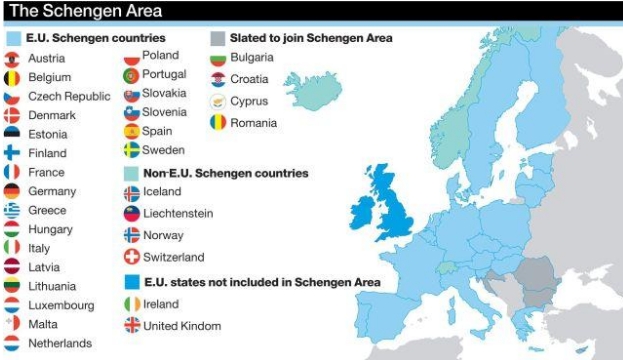 These nations have a border-free movement of people without any passport requirement. Simply, your passport gets stamped upon arrival and departure from Europe. Mainly, the entire region acts as one country, and you can freely move as you want.
So, now while we understand what the Schengen area entails, let's understand ways to stay in Europe for a longer duration. With so many visa rules, it's not easy to stay in Europe longer than 90 days, especially if you want to travel only. Some methods can help but before you get excited, let me tell you, none of them are guaranteed.   
Split your journey between Schengen and Non-Schengen nations

: Not all European nations are covered under the Schengen area, and therefore if you want to travel the continent for a long duration without going through the visa process, you just need to add different countries to your itinerary. You can spend 90 days in the Schengen zone and the next 90 days in non-Schengen nations, which fall within the purview of Europe, before as a tourist you apply for another Schengen Visa. The United Kingdom has its rule that permits you to stay for 180 days. Similarly, other non-Schengen nations, like Croatia, Ireland, Ukraine and some Balkan nations allow you to stay for 60 or 90 days. So if you manage to align your schedule smartly, you can easily be out of the Schengen area for 90 days, and once this limit is over, you can go back to any of the Schengen countries.

Go for a long-term visa

: There are a few European nations, like France, Sweden, and Italy, which allow long-term visas. However, getting a long-term visa isn't an easy job. You will have to do your research to see which countries offer such kinds of visas. Also, you should have sufficient money in your bank account to

support your stay

as you will not be allowed to work during your stay. Usually, such visas are offered for one-year, and many of the countries will require you to have at least $25,000 in your bank account.

Apply for a working visa

: Usually, it lasts between one and two years, and it is one of the great ways to stay longer in Europe. During that time, you can work and travel freely throughout the Schengen area without having to worry about the time limit.

Go for a student visa

: There are various colleges in the Schengen area which are offering courses in English. All Schengen nations offer student visas which aren't difficult to obtain as long as you're enrolled in a recognized university. Though it would require you to pay for the course, it will surely guarantee you a visa. With a student visa, you can travel freely.

Apply for a self-employed visa: If you're a freelancer, artist or have some other skills, this is the visa for you which can give you one to two years in the European region. Germany provides a 'self-employment' visa, which is different from a business visa. You need to apply for this visa while you're in Germany. The entire process is straightforward and simple. You might get lucky and get the visa on the same day, or the competent authority might review your application over a couple of weeks. But, if your Schengen visa is about to expire, they'll give you a temporary three-month visa extension and in the meantime, they will review your application. It means you can apply for a visa knowing that you won't get it just to get the three-month temporary visa extension.
Teach English as a foreign language: It is an excellent way to extend your stay while being able to get paid and travel for the same. All you would require is a professional certificate. Depending on your job, you'll be able to get a six-month or one-year visa, which can be renewed further if you wish to continue your job.
Alternatively, you can apply to a university, get your student visa and never attend the course. During the validity of your student visa, you can travel freely. However, I would advise you to pursue your course as it would open up a galore of opportunities in Europe. You could also find a good job and from there you could gain residency and eventually citizenship. However, this is an expensive process as you will require money for your studies and visa. But with your student visa, you will get a chance to stay for a full one year, and it's worth the cost!
Some money saving tips to support your long trip
Slow down and enjoy yourself completely

: The problem with the '90-day' limit is that you rush to see everything you want. It means, spending more money in commuting. Instead of rushing to a new place in every three or four days, you should stay in the same city for weeks and experience life like a local. In this way, you can have a relaxed journey. Also, spending more days at one place will reduce your transportation cost.

Couch surfing

: It is a hospitability exchange in the form of social network that allows you to ask other

couch surfers

if you can stay at their place during your trip. Couch surfers can stay on a host's sofa or in their spare room. There is no money exchange. It is a great way to save money, explore new places and meet locals if you don't mind losing a bit of your privacy.  

Buy comprehensive travel insurance

: Although, it is mandatory to buy a travel insurance policy before you travel to any Schengen area, I advise you to go for a comprehensive cover. Just to fill the legal obligation and save money, many people buy a low travel insurance coverage. However, it is always good to go for a

comprehensive international travel insurance t

hat provides utmost protection against unforeseen medical and non-medical emergencies. It includes expenses of hospitalization, personal accident, loss of passport, baggage and other incidental expenses.
Tread Carefully
If you overstay only by a few days, you won't run into problems but any longer than that could land you in big trouble. The consequence can go from a warning to a hefty fine and deportation along with an 'illegal' immigrant stamp on your passport. Due to this stamp, you'll be heavily questioned regardless of where you travel in the future. You'll also be banned from entering the Schengen area for at least one year. Though there are legal ways to extend your stay in the Schengen area beyond 90 days, I would advise not to do so as you will require dealing with immigration laws and there is always some risk.