As we all know that security is the matter of concern in every country and activities like robbery, crime, and other anti-social behavior have been practicing by many criminals in a different part of many countries. But do we ever thought why is these kind of activities has been practiced even with the presence of closed-circuit television (CCTVs) as these tiny cameras are equipped in almost every place in every country? But still we don't feel totally secured and protected from criminal activities. And instead of the enhancement of security and surveillance in terms of technology, no country could resist itself from illegal activities whether is a developed country like United States or a developing country like India. In today's scenario, each and every public place whether it is a governmental edifice or a private firm or any public accommodation place such as hospital, school, shopping mall, restaurants all are under the surveillance of CCTV cameras. But still no government of any nation could able to eliminate the criminal, heinous or robbery activity, and most of the incidents takes place in public areas like restaurant, mall, hospital, etc. Because in most of the cases CCTV cameras are failed to detect the visual of those crimes due to their low video storage capacity as they are in use for 24 hours a day and 7 days a week which eventually results in exhaustion of their video storage capacity and here my article is dedicated to the technical reason behind the failure of CCTV cameras in many cases and how to get rid of these problem with the help of cost and video storage capacity friendly Seagate Surveillance HDD.
As we are in the new age of surveillance and most of the times we find ourselves surrounded by some advanced CCTV cameras or other video monitoring devices in big corporate firm or some major areas but the benefit of surveillance for security purposes shouldn't be limited to big or renowned enterprises, areas or places but it should be available for all and this is the core agenda of Seagate's Surveillance HDD video monitoring devices to avail the technology to common public, medium enterprises with the helps of well equipped video monitoring devices which should be preferable in terms of quality, cost as well as video storage capacity.
How Seagate's Surveillance HDD Makes Difference 
When it comes to opting for a premium CCTV cameras or other surveillance devices then we always prefer a trustworthy brand and those who carries a goodwill in market which includes CR Kennedy of Australia, March Networks of Canada.
But here I would like to acknowledge you few things by giving the example of smartphone, For example, an unlocked version of iPhone 6 for 16GB version is $719 and for 64GB version is $829, Now here you will notice that the hike of $110 is made for the addition of 48GB that means the consumer have to pay additional amount of money in order to get more internal memory for their iPhone.
Now the above-mentioned theory is applicable to surveillance devices as well and that is the reason, why brands like CR Kennedy provides expensive devices as they are forced to ask for more price from consumers because hard drive technology is still sumptuous. And that is the reason, if you want a CCTV device with more video storage capacity then you'll have to pay more and unfortunately masses can't afford such expensive tools. Interestingly, Seagate's Surveillance HDD plays a significant role in bridge the gap between an affordable price and more video storage capacity in surveillance devices. As well all know that Seagate is one of the oldest, renowned data storage company found a solution to provide more video storage capacity in a surveillance device and name of their extrication is "Surveillance HDD" as this video storage solution is design specifically for surveillance industry and they've already collaborated with CR Kennedy and March Networks to provide effective surveillance instruments at efficient prices.
On this, CR Kennedy's Mr. Barratt Thompson said, "CR Kennedy can now maximize video storage capacity and reliability for our customers with a cost-effective DCCTV solution."
He added "With the large capacity of Surveillance HDD, CR Kennedy can offer solutions to our customers with massive storage capacities but fewer drives. This brings benefit of lees cost, less generated heat, less noise and very importantly less maintenance". And now they are capable of providing a full 4TB of storage on a single drive to their consumers.
On the other side, Robinson of March Networks said, "Surveillance HDD provides durable and reliable performance and is tuned to handle the high write workloads of March Networks' 24×7 video surveillance systems,"
Specifications And Framework of Seagate's Surveillance HDD
As far as my assumptions regarding Surveillance HDD are concerned, we do not need to put the integrity of Surveillance HDD in battle against any alternative because Surveillance HDD technology is primarily on its own, and that's why they do not require any comparisons.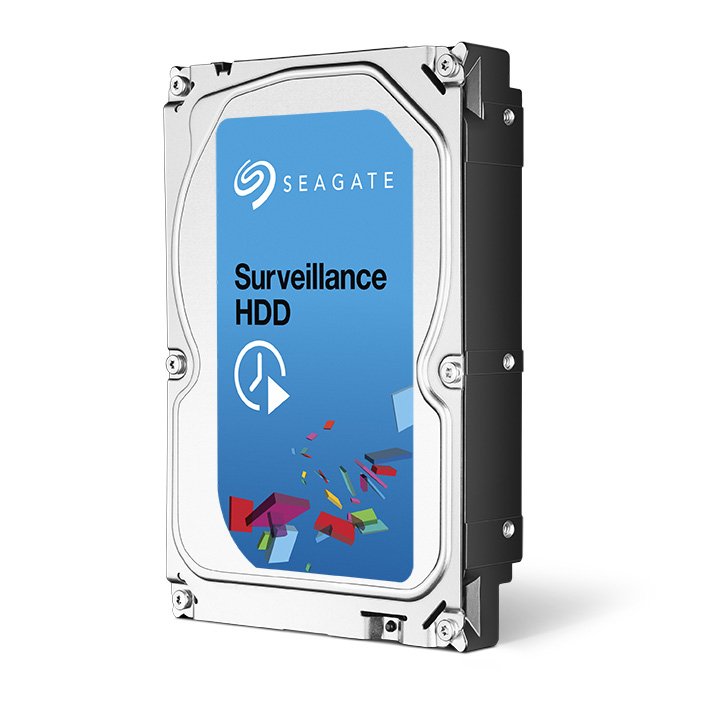 When it comes to the features and workings of the device, so it is as follows:
Surveillance HDD is the first surveillance-optimized hard drive platform that is capable of providing up to 6TB (6000 GB) which improves video streaming, drive performance, and data integrity in surveillance applications.
This Surveillance HDD supports higher-resolution camera devices and up to 16 drives per system, with up to 32 cameras per drive.
Decidedly performs in multi-drive systems with RAID support from RV sensors and along with this, it also supports 24×7 operational capabilities while maintaining high MTBF of 1M hours.
Also supports lower power consumption for always-on  surveillance systems and never miss a frame with quick time-to-ready.
It also offers options for a current limited startup of less than 2A supports the use of embedded system power supplies.
It has additional features such as Idle3 spin control features enable power-on in standby mode or drive spin-down to conserve power and improve reliability during archival periods.
Works diametrically with applications which includes NVR, Embedded SDVR, Hybrid SDVR, Surveillance DVR.
Sources: Seagate