Christmas is right around the corner, and you still can't think of a perfect Christmas present? There are millions of options when it comes to buying a present, but most of us love to be creative and unique. If you decide on a DIY present for your loved one, you can find loads of ideas on the Internet with how-to tutorials, often illustrated with pictures.
One of the ideas that we found creative and original is a custom made recipe book. Every family has, at least, one member that is in charge of that important part of every holiday – food. Maybe it's your mother, sister, wife or husband that loves to cook and has a special notebook or folder where they keep all their cut-out recipes from magazines. So instead of buying a book of recipes, you can awaken your creativity and make a digitized collection of their, or your, favourite recipes. Now you are probably thinking that it would take too much time to retype all the cut-out recipes one by one, you are already frustrated by the idea, and soon you are thinking of giving it up and just buying a book instead.
But don't give up just yet! Since this is a digital era, and virtually everything is digitized, there have to be some tools that can help you with your project. One such tool is PDF Converter Elite 4.
What this tool can do is turn any scanned PDF document with the help of OCR technology, and turn it into Word file for you to edit. Let's go back to your present.
Choose all the inspiring recipes that you would like to include in your cookbook, scan them one by one and save somewhere on your computer. Because these are now scanned documents that you have, you can't copy the written content or edit it. You need to convert these files into an editable format to be able to modify them. So, PDF Converter Elite uses OCR (Optical Character Recognition) technology to extract content from the scanned PDF and convert it into Word file, ready to be shared or printed for your purposes.
A short guide on how to convert scanned PDF to Word
The first thing you do when you launch the PDF Converter Elite is clicked Open and choose files that you want to convert.

The important step here is to go to the Edit tab, and then OCR Options, and tick Convert using OCR, as the picture shows. You need to tick that option if you want to convert a scanned PDF.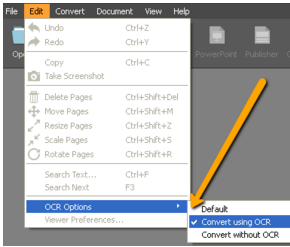 Now you are ready to convert your scanned PDFs. Go on and click Convert from a drop-down menu, and then click on PDF to Word option, like the arrow in this picture shows.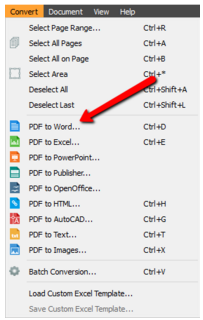 As soon as you do that, on the right-hand side of the screen, you will see a window where you can choose whether to select a certain area of the file, all pages or just a range, depending on how many pages the file has.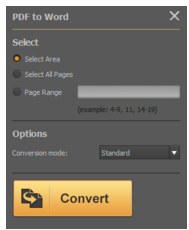 When you choose the file type, just click on the "Convert" button and the conversion will start. It takes a few seconds for the conversion process to finish, and then the converted file will open in MS Word. Now you can edit it, make changes, add some pictures, or design it the way you like it.
The conversion is pretty precise and quick and saves you time for expressing your creativity.
After you finish editing your recipes in Word, you can print them to PDF using PDF Converter Elite as a printer, and if you want to merge all recipes into one PDF file that would be convenient for sharing, you can do that as well.
Printing PDF using PDF Converter Elite 4
This is how you print your Word recipes into PDF:
While still in Word, go to File, then Print. For printer choose PDF Converter Elite 4.
Hit Print and the dialogue box will open for you to choose where you want your PDF to be saved. Simple as that!
Final thoughts
We took the freedom to present this software by giving you an idea for a creative and fun way to surprise your loved ones for Christmas. However, during the testing of the software, we discovered that it provides clean and precise conversions of various file formats, from Word, OpenOffice formats to Images. It's neat user interface gives a sense of a simple yet powerful tool that can perform any conversion.
The trial period lasts for seven days, and after that, you can buy a lifetime license for $99.95.
We encourage you to try this DIY project, and we wish you a Merry Christmas!