Everything seems bigger and larger than life with Tablets! With Tablets and its striking visuals, it is not just a mere treat for our eyes, but it expands our imaginative power too by displaying images dipped in vibrant colours and appearing in grand form on the Tablet's screen. iBall, an Indian company into mobile phone business recently introduced iBall Slide 3G Q81 Tablet, which was made available at India's leading retail stores from January 2016.
This new Tablet from iBall has been designed to give optimum performance to satiate the soul of a tech geek and the Gen Y.  iBall Slide 3G Q81 Tablet narrates stories to its users, i.e., every activity will be fun, ranging from watching movies, playing games, listening to music as well as browsing. Being an Indian company, it has designed the Tablet keeping in mind the crucial factor, i.e., Indian consumers digital needs and preferences.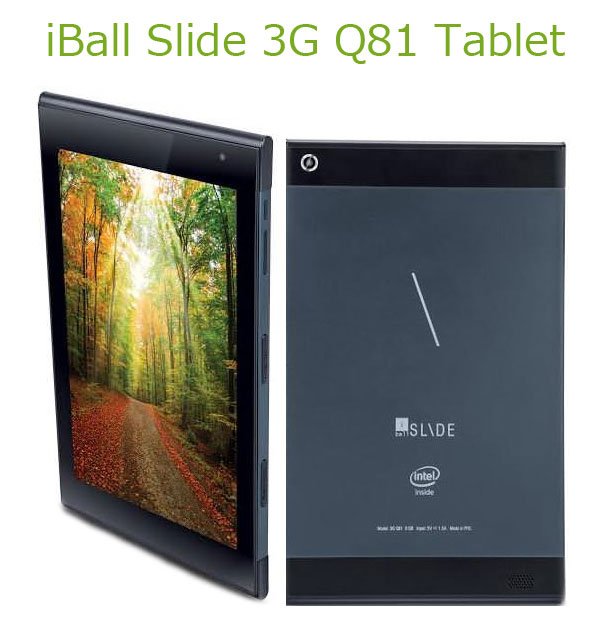 Tablets are a medium that redefines the way we consume content. Not just that, it has travelled a long path and allowed its consumers to create content that can be shared and reviewed on various platforms. Marshal McLuhan, a Canadian philosopher of communication theory and a public intellectual, had coined a very important phrase, 'Medium is the message'. According to him, the medium of the message also played a significant role in how the message is perceived by the audience by creating a symbiotic relationship between the medium and the message.
In this era of infotainment, iBall Slide 3G Q81 Tablet available at a very affordable price has come as a surprise to many of us. Though it is priced very economical, there is no reason you can take your eyes away from it thinking it would not deliver the quality that highly priced Tablets do. Truly speaking, this Tablet is a kind of portable home entertainment device that has in its store various options of entertainment like MP3 player, HD Video Playback and FM Radio.
iBall aims to enrich the experience of its customers i.e. viewing from any angles without any strain is possible with IPS technology having HD screen resolution of 1200*800 about 8 inches. This Tablet is also equipped with a full-capacitive multi-touch display which comes into play with just a light touch of the finger.
Whether you are a student who is loaded with various school or college assignments, or you are a professional whose business strategies are technology driven, and then this Tablet is apt catering to the needs of both the type of individuals. With the processor – Intel® AtomTM x3- 1GHz Quad-core, 64-bit processor and the operating system- Android 5.1 Lollipop, it is very easy to switch from one task to the another without any hitches in between.
For a photography freak and selfie lovers, possessing this Tablet is a must. Now, it is so easy to capture any moment that you wish to cherish in the future, with this Tablet's 5MP auto focus rear camera and 2MP front camera.
Battery drainage is the main problem these days, and it often leads to frustration. However, iBall has kept this thing too in mind as it's new Tablet iBall Slide 3G Q81 is powered by 4000mAh Li-Polymer battery that gives you fun working hours for a longer time. Networking and remaining connected in this era of competition is very important, hence, keep yourself abreast of everything that is happening in your family or friend circle, professional groups using the connectivity options like USB tethering, Wi-Fi, Bluetooth, OTG function and Micro USB Port. This Tablet is also equipped with GPS and A-GPS capabilities.
Thinking of gift this Tablet to your mother who does not know English? Well, then this Tablet has a multi-language keyboard that supports more than 15 regional languages. So, it is time to educate your mother using the new technological device, so staying connected with her in never a problem, no matter how far you are from her!
Editor's Note:  Soniya Sen adores writing about the mobile technology and the latest mobile products. Currently, she is a creative writer, working with Infibeam.com, an online shopping portal that has a wide range of mobiles and tablets from popular brands like Apple, Sony, iBall, Micromax, Intex, Samsung. Infibeam has come up with the sale of iBall 3G Q81 Tablet. With Infibeam's quick delivery of products, one can have a delightful shopping experience. Also, easy exchange and return policy along with secured payment options create an environment of trust and reliance between the company and its customer base.