We all know that health is an essential part of our lives. Everybody wants to stay fit forever, but it's not always possible as people are susceptible to ailments like viral, cough, flu, typhoid and many others. These are some of the diseases that surface in the environment on a regular basis. It is nearly impossible to get rid of such illnesses. However, it is possible to stay fit by adopting a healthy lifestyle that primarily involves exercising regularly, eating food rich in protein and vitamin and sufficient intake of water.
But unfortunately, life's uncertainties are inevitable. With the increase in global pollution, no one can assure that you will always be in the peak of your health. Moreover, there can be major upheavals in life like meeting a minor or major accident or being diagnosed with a fatal disease like cancer. This only proves that some things in life are beyond our control.
So the most important question is whether adopting a healthy lifestyle is enough for living a live without worries. So what should you do if you find yourself in the middle of hassles related to your treatment? You claim your health insurance benefits to meet your medical expenses! But to do that, you will firstly need to get hold of a decent health insurance.
You need to remember the following while buying a personal health insurance:
The ideal Health Insurance for yourself
The insurance cover provided by your current plan
The validity of your health insurance
Benefits of starting early for health insurance plan
Tax benefits
1. Pick an ideal Health Insurance Plan for yourself
Nowadays, there is a lot of competition in the fields of insurance, whether it is related to life insurance, car insurance or health insurance. So it is necessary for you to evaluate the one that will meet your individual requirements. As far as my personal experience is concerned, it is quite hard to choose the perfect one. Every insurance company claims to be the best which is not the reality. To get the best health insurance for yourself, you need to keep your senses open. It is very important to judge the effectiveness of a health insurance program, based on specified parameters. It is always worthy to opt for eminent insurance organizations since they strive to meet your expectations in order to maintain goodwill. Secondly, always ensure that your plan will cover all expenses related to your medical treatment. Also, try reading every word of the insurance policy brochures and plans while buying one. There are various renowned health insurance plans available in the market right now. I'd definitely recommend you to opt for CARE by Religare Health Insurance, since this plan fulfills every single requirement that you might have.
2. Insurance Cover provided by your current health insurance plan
According to me, this is one of the most significant parameters while judging an ideal health insurance plan. While most health insurance companies provide basic health cover, but few entirely cover your overall expenses in case of an emergency situation like cancer treatments. This health care plan covers all minor and major hospital and other treatment related expenses that include in-patient care, floater cover, pre & post hospitalization, day care treatment, ambulance cover, domiciliary hospitalization, organ donor cover and other related expenses.
The plan also provides a Zero Payment option so that you do not have to run around paying off your hospital bills and then follow up for reimbursements. All you need to do is get admitted to any of Religare Care's network hospitals and concentrate only on your speedy recovery.
3. Validity of your health insurance provided by your organization
This is another significant aspect of any health insurance plan, and we hope you must be aware of the fact that the validity of your health insurance cover provided by the organization is connected with the time span of your confederacy with the organization. Such kind of health insurance policy lapses once you leave your plan. In such cases, an individual would then have to liquidate their savings or assets to meet any medical contingencies.
As they put it, 'The security of your health and happiness should be your prerogative for life. To make the process of your health insurance more convenient, choose a policy with a term of one, two or three years. What's more, avail a discount on your premium if you opt for a longer policy term''.
Here you can find the CARE by Religare Health Insurance plans for different periods"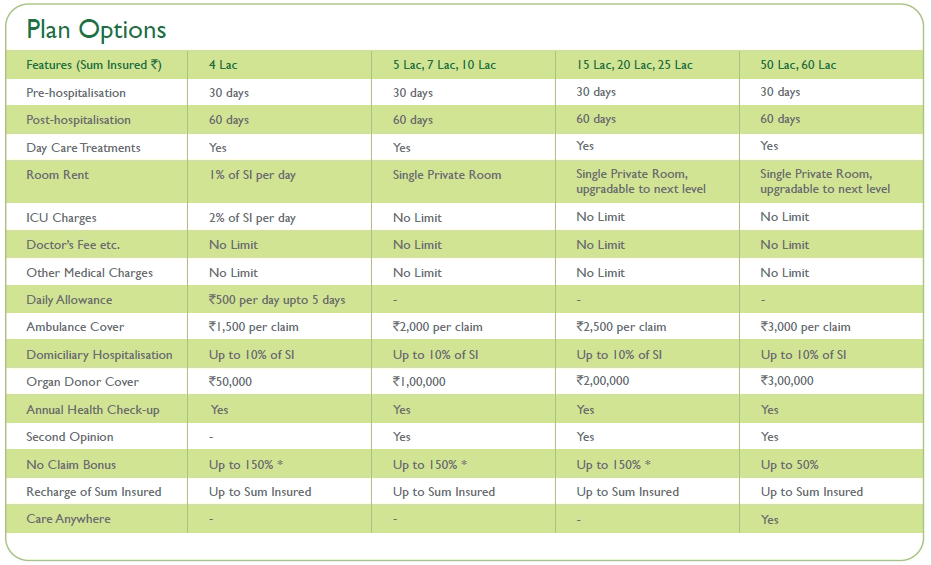 4. Benefits of starting early for a health insurance plan
In this particular segment, I would like every reader above the age of 18 and below 35 to look into this parameter very carefully. We all know that buying a personal health insurance policy is cost-efficient while one is young and free from medical complications. When you are young, the premium for your insurance plan will be lower as compared to that of when you are old. As an individual grows older, the cost of the cover increases and if one develops health issues, the health insurance company bow to eliminate pre-existing conditions that necklace the whole motive of buying health insurance. Most health insurance companies have an upper age limit for the policies, which means one would have limited options after retirement.
Additionally, this offers a no claim bonus as well which means if you do not claim on your health insurance policy in a particular year, they raise a toast to your good health in the form of substantial bonus. You receive an increase of 50 percent in your sum insured for every claim every year which can go up to a maximum of 100 percent of sum insured. In addition to this, you also get a 10 percent increase in the sum insured, up to maximum of 50 percent, as per the regular No Claim Bonus feature.
Here is the illustration for the Religare Care No Claim Bonus:
5. TAX BENEFIT
In my opinion, opting for an ideal health insurance policy is not only beneficial for your health related concerns but also give you utmost tax benefits a payments made in favor of health insurance premiums are eligible for tax deductions under section 80D of the Indian Income Tax Act. Individuals less than 65 years of age can claim a deduction of up to Rs 25,000 for the health insurance premium paid for themselves, or for their spouse, children or parents. However, it shouldn't be the driving force behind going for a health insurance policy.
Highlight For The CARE by Religare Health Insurance Plan:
Wide range of sum insured – up to ₹60 Lacs
Annual health check-up for insured members – regardless of claim history
Get automatic recharge of sum insured if claim amount exhausts your coverage, at no extra cost
No upper-limit age on any Religare Care's Plans
Daily allowance to meet incidental expenses
Avail medical treatment anywhere in the world
Increase sum insured of your existing policy, at your convenience
Ease of cashless treatment & settlement of claims directly by the company
No pre-policy medical check-up for sum insured less than ₹15 Lacs, till 45 years of age
Up to 150% increase in sum insured with No Claim Bonus – SUPER
Let's wrap the whole thing and we hope the above facts helps you find the most suitable Health Insurance Plan for yourself. In case if you want to make any addition to this story so please send your opinion in the comment box below.