Nowadays people transact most of their professional documentation work in PDF files only but there are times when you will be required to convert the PDF into the desired file format to view and vice-versa. In these cases, most people land up resorting to basic online conversion tools that offer brief services such as PDFs to Office but not in a securitized environment as your data could be potentially misused by those service providers. To avoid that, we've come up with a trusted online PDF solution called EasePDF. They offer a comprehensive set of solutions for all your PDF-related tasks. With EasePDF, you can easily compress, split, merge, edit, or rotate PDF files without any hassle. You can also convert PDF to PPT, or Word, or Excel, or JPG, or HTML and vice-versa.
So here we've come up with the review of EasePDF and we'll be analyzing all the pros and cons of the application so that you can get the most out of it.
User-Interface
As far as the user-interface is concerned, the developers of EasePDF did an amazing job in structuring the web-interface of the site as it performs all the conversion tasks very easily. Additionally, the interface is quite secured which means servers of EasePDF deletes the files in 24 hours duration automatically, so you don't need to worry about your data.
Since the whole web-interface is automated, it can easily be operated by everyone irrespective of their technical competence.
Range of Tools EasePDF Offers:
Here is the list of tools that EasePDF provides:
Convert to 
Word to PDF

Excel to PDF

PPT to PDF

Images to PDF (JPG, PNG, BMP, GIF)

TXT to PDF

RTF to PDF

HTML to PDF
Convert from
PDF to Word

PDF to Excel

PDF to PPT

PDF to TXT

PDF to RTF

PDF to HTML

PDF to Images (JPG, PNG, BMP, GIF)
Other Tools
Compress PDF

Protect PDF

Unlock PDF

Merge PDF

Split PDF

Rotate PDF

Edit PDF

eSign PDF
Let's start with EasePDF:
It is very simple to use EasePDF for all your PDF files related tasks. Here your file is the main component for the whole conversion or creation process. As soon as you upload your principal file the tool will begin to work automatically.
For converting PDF to other file formats such as PPT, Word, or TXT. You can follow our guide on converting PDF to PPT and the same method is applicable for converting into other file formats.
Converting PDF to PPT
Step 1: At first, you have to visit EasePDF.
Step 2: Here you have to select PDF to PPT tab from the "PDF Converter" drop-down menu tab on top.
Step 3: Now you have to select the PDF file that you want to convert. You can either upload it directly from your PC or via Google Drive/ Dropbox/ or URL.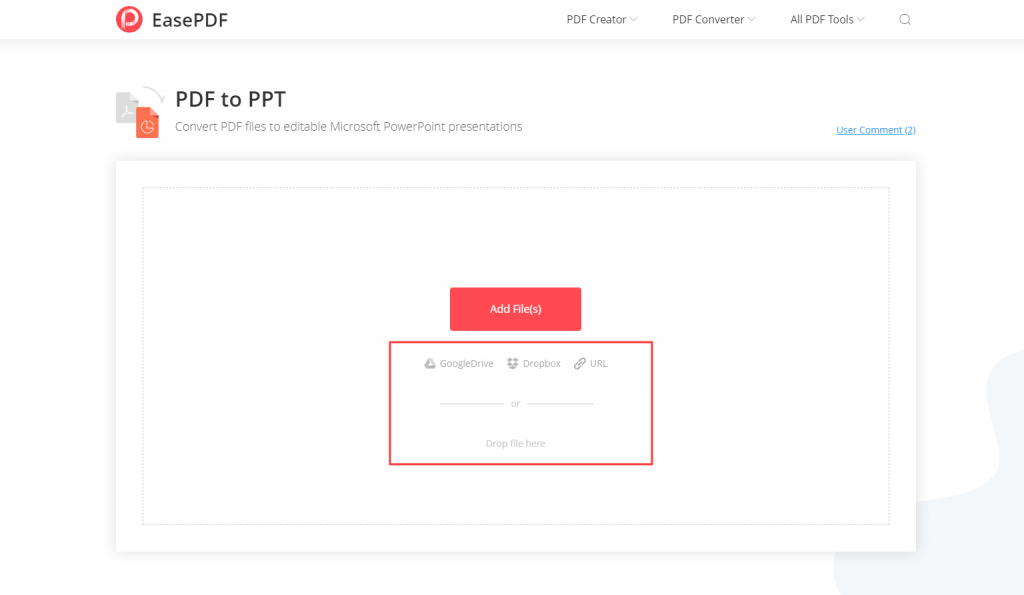 Step 4: Once uploaded, it will automatically convert PDF to PPT. After processing, it will show the notification of "Your Document is ready" with the option of downloading the file.
Step 5: Finally, the process is completed. You can download the converted file onto your system.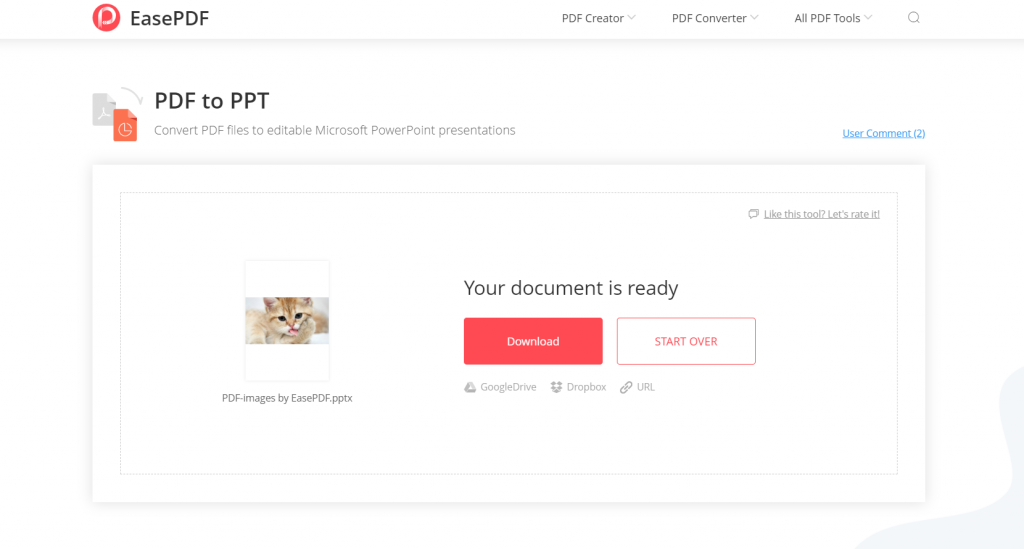 You can follow a similar procedure to convert other file formats into PDF as well.
Compress PDF
Well, compressing PDF is pretty much similar to the converting process. All you have to do is to click on the "Compress PDF" tab on EasePDF. Then, select and upload the file you want to compress. Once uploaded, the tool will begin the compressing process instantaneously. You can download it once the compression is completed.
Merge PDF
Here you have to do an additional thing apart from uploading the file, once the file is uploaded to EasePDF you need to confirm your PDF files. Then, you can click on "Merge PDF" to start the merging process. Once the merging is completed, you can download the merged file.
Split PDF
Though the whole split thing seems complicated at first glance. But in reality, it is very simple to perform the Split PDF action by using EasePDF. All you have to do is to follow the aforementioned guides to upload the PDF file by selecting the "Split PDF" tab and then you can see all pages of your PDF file. After that, you can click on all those pages which you want to keep in your file and click "Split PDF". Later, the downloaded file will contain the pages that you selected.
Pros
Easy to use interface

Powerful c

onversion tools

Safe encryption of files

Free to use
Cons
Some tools need improvement

The mobile site works well but can't entirely replace the PC version
EasePDF Review
Verdict
If you are looking at every kind of solution when it comes to your PDF files then look nowhere else as EasePDF offers every solution related to PDF files in an effective and efficient manner. It doesn't matter whether you want to convert PDF to PPT, Word, Excel, or compress, merge, split your PDF files it will serve all your purpose without any issue.