As we all know that the Chrome browser is one of the best stuff Google has every produced. Not only me, but a majority of android users out there like to use Chrome as their main mobile browser instead of the 'default one'. But in case you don't know, the chrome isn't just about being so fast and lite but also it comes with features such as an incognito mode for private browsing etc.
But in this article, I'll show you a method through which you can easily create home screen shortcuts for your frequently used websites so that you can skip that one step of; opening the browser and typing in website's URL.
Here are the following steps you need to follow in order to Create Home Screen Shortcuts For Your Favorite Websites;
Step 1: Open the chrome browser on your android device.
Step 2: Now type in the URL of the website (for which you want to create home screen shortcut icon) in the address bar.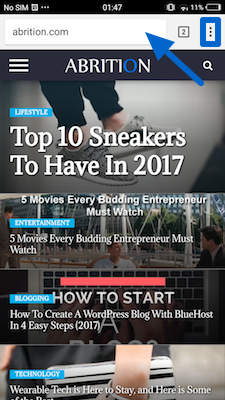 Step 3: Once the website is loaded > click on the three vertical dots on the top right corner > then click on the 'Add to Home Screen' option.
Step 4: Now it will ask you to edit the name of the icon. That's it and you are ready to go.
No longer procedure to open up your favorite or frequently used websites.