Buying a new laptop is quite a significant investment for most people. There are diverse reasons why people buy laptops; as there are different features – memory space (HDD), Total Graphics, Operating System (OS), Processor and Processor speed – that people look out for when they want to purchase a new laptop.
For writers and bloggers, a lightweight laptop that has a good display panel, great multitasking ability, high storage capacity, comfortable keypads, and long battery life, are some of the main features that they will be looking for in a new laptop.
After careful review and comparison, we have compiled a list of the best 7 laptops to buy for bloggers and writers in 2020.
1. Asus Zenbook 13 (Best value for money)
Buying an Asus Zenbook 13 is getting more than your money's worth because this aluminum designed ultra-book laptop has several impressive features. It boasts of high-level all-round performance, it is sleek and portable (weighs below 2.5 pounds) and is relatively affordable for its specs.
If you are in the market for a decent laptop with high data transfer speed, good multitasking ability and can help you get your writing tasks job done appropriately; look no further, the Asus Zenbook is the correct fit for you.
Specifications
Royal blue/Silver/Burgundy red colors.

lightweight fingerprint reader

Up to 14 hours of battery life

HD 720p webcam (Suitable for vlogging)

Fast charging capacity

8GB 2133MHz LPDDR3 RAM/256GB SSD

16GHz Intel Core i7 8550U processor

Intel HD Graphics 620 Graphics Processor

13.3 – inch 1920 x 1080 HD full-screen display

13.97 x 215.90 x 12.20mm dimensions

Windows 10 Operating System

Comfortable backlit keyboard
2. Apple MacBook Pro (Best overall)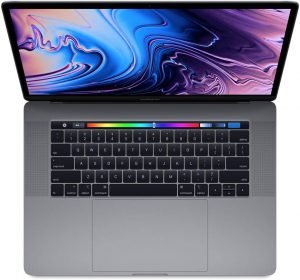 When you use words like class, elegance, and quality in describing a laptop, there is no doubt that you must probably be referring to the Apple MacBook. Apple MacBooks are laptops with distinctive greyish/Silvery and golden colors that come in two sizes (13inch and 15inch), and they are made of solid aluminum material.
Known for its ultra-thin 4.2-pound size, the MacBook is your best bet if all you crave is a powerful yet compact – sized laptop that you can comfortably carry around and work with conveniently. Also, for writers and bloggers who love to research and open lots of tabs at the same time, you can never go wrong with the excellent multitasking ability of a MacBook.
Specifications
macOS operating system

15.4-inch 2880 x1800 Retina display

3D graphics apps

128GB SSD storage

16GB of 2400MHz DDR4 internal memory (can be boosted to 32GB)

Keyboard with Touch ID light sensor

Over 10 hours of battery life

2.3GHz/2.6GHz 6 – core Intel Core i7 which can be boosted up to 4.3GHz
3. Lenovo Ideapad Premium (Best budget)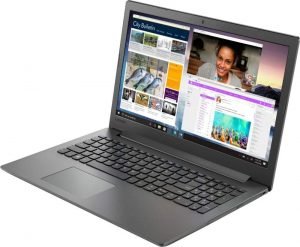 Featuring an excellent keypad design, the Lenovo Ideapad is ideal for writers that always have their fingers on their keypads. This budget laptop sticks to the absolute basics and delivers premium performance with regards to web surfing, document typing, editing, and storage.
Specifications
Intel i5 8250U AMD CPU Quad Core

DVD – RW Drive

8GB RAM DDR4 RAM

ITB HDD storage

15.6 HD display 1366 x 768 PX

Purple/Black/Red/Gray color
4. Apple MacBook Air (Best Compact)
Designed for easy mobility and for convenient on the go usage; the MacBook Air is one of the thinnest laptops in the market. Speaking of compact laptops, the MacBook Air ranks amongst one of the sleekest laptops currently available in its 2.75 pounds glory.
Another reason the MacBook Air is on this list is because of its swift response to commands, and this is made possible as a result of its 8th generation Intel Core processor.  Along with its shiny aluminum casing, the MacBook is built to be durable, despite its sleek and gorgeous design.
Specifications
Lightweight (2.75 pounds)

13.3 inch LED backlight 2560 x 1600 True Tone Retina display

1.6/2.8GHz dual-core Intel Core i5/i7 – 5250U (can be boosted to 3.6GHz)

8GB 2133MHz LPDDR3 RAM 128GB/256GB SSD

12 hours of battery life

32.5 x 22.7 x 1.7cm dimensions

Fluid, comfortable and responsive keypads/Trackpad

T2 security chip

Comes in silver/grey/gold colors

Intel HD Graphics 6000

macOS High Sierra Operating System
5. Acer Aspire E15 (Best graphics and battery)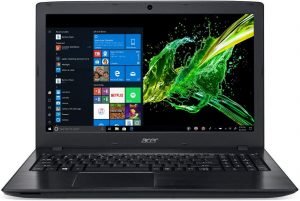 For writers and bloggers who are in the market for affordable laptops that can open documents swiftly and can also help you multitask effectively; this Acer brand is an ideal choice. Coupled with its high-quality Nvidia GeForce MX150 (2GB GDDR5 VRAM) Intel UHD Graphics 620 processor, this laptop will seamlessly handle any graphic intensive task
The icing on the cake for this laptop is its battery life; if left unplugged after a full charge, you can work uninterrupted on the Acer Aspire E15 for at least 10 hours, which is a feat for a laptop without a fancy look. And what the Acer Aspire lacks in good looks, it makes up for in battery life, performance, price, reliability and durability.
Specifications
Windows 10 Home edition Operating System

ITB HDD 8GB RAM DDR4 256 SSD

15.6 FHD 1920 X 1080 LED-LIT Colorful Display

13.5 battery life

Comfortable keyboard

1.6GHz Intel Core i5 – 8250U (Can be boosted to 3.4GHz)

Nvidia GeForce MX150 (2GB GDDR5 VRAM) Intel UHD Graphics 620 processor

15.02 X 10.20 X 1.19 Inches (dimension)
6. Microsoft Surface Go (Best budget compact)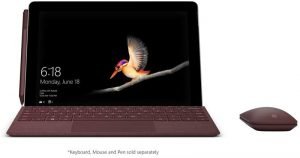 Although this beauty doesn't come with a built-in keyboard, it is a compact, slim and durable device that looks like a tab, and which you can actually use without the keyboard anyway, due to its touch screen feature.
Best for carrying around and getting work done at any time and place, this device is also durable; and with its rugged aluminium design, it can survive a fall.
Designed for web surfing, Microsoft Office, Graphics designing and typing; this device is suitable for basic writing and blogging.
Specifications
Windows 10 in S Mode Operating System

A kickstand

Facial recognition

1.6GHz Intel Pentium Gold 4415Y processor

Intel HD Graphics 615

4GB/8GB RAM 1866MHz LPDDR3 64GB/128GB/256GB SSD

9 hours of battery life

1800 x 1200 10inch PixelSense Touch Display

Comes in Silver color

9.6 x 6.9 x 0.3 inches dimension
7. HP Spectre X360 (Best Design)
This 2 –in – 1 convertible device is one of the best laptops you can buy. Designed to function as a tablet and also as a laptop; this beauty is compact and yet lightweight – weighing just 3 pounds.
Another advantage of this device is its multiple tabs/browsers feature; with this laptop, you don't have to worry about crashes or freezes when you open multiple tabs/browsers.
Also, you can effortlessly install and run high-quality video editing and graphics designing software. This laptop boasts of a very stylish design and is available in both 13 and 15-inch versions.
Specifications
14 hours of battery life

13.3/15.6inch 1920 x 1080 FHD IPS Display

Edge to Edge Touchscreen

8GB/16GB DDR4 256GB/512GB SSD

HD 720P Wide Vision webcam

Intel Integrated UHD Graphics 620

1TB HDD

7

th

Generation 2.50GHz Intel Core i5-7200U/i7-8565U processor
Conclusion
The laptops mentioned above are perfect for bloggers or writers looking to get an upgrade on their existing computers. However, the perfect laptop will significantly depend on your budget, personal preferences and the features you value the most. For bloggers and writers in the market for a new laptop, you simply cannot go wrong with any of those laptops listed.