There is no debate on the popularity of travel in India and one of the things that sets Indian travelers apart is their love for trains. People traveling by trains far exceeds the number of air travelers in India.
For this particular genre of people, RailYatri.in app is an ideal option to opt for and after using this app I've found that this app contains tons of feature that would really helpful in doing various tasks related to travelling in train which includes inquiry, platform number for train and many others.

Features
1. "Home" screen for one-touch access to recently viewed screens
2. Live Train Running Information
3- My Trips for easy access to your upcoming travels
4- Live Arrival / Departure status at a station
5- GPS based running train status for on-board travelers! Now get precise train status while traveling.
6- Speed Check – Ability to check running speed of a train. (Only for on-board travelers)
7. RailWisdom – with detailed information & photos around nearly every major station in the country
7. PNR Enquiry based on IRCTC bookings
9. Trains Routes with schedules
10. Trains between stations
11. Integrated alerts for trains, including Disruptions, Cancellations, Delayed starts, Hotspots, etc.
12. Platform numbers for trains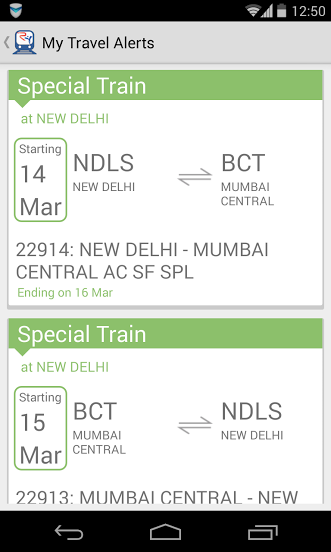 The much admired user interface of the app (use the latest cards based GUI released by Google) makes the app very easy to use across the wide user base. We are sure you will find the app helpful and informative, whether traveling on Indian Railways or otherwise.
Comparison with alternatives
Isn't it confusing to decide what to take along when travelling on a train? Well, not anymore. With many intelligent apps in the market, all you have to carry is your smartphone.
Recently, many travel and technology players paid attention to railways – that supports about 15 million travelers everyday, much higher that air and road travelers combined and came up with smart apps to simplify your train travel.
Let's have a quick comparison amongst the three most popular train travel apps and find out who is offering what.
S.No
Parameters
RailYatri
Ixigo
Disha
1
Running Train Status
 YES
 YES
2
Live Train Status via GPS
 YES
 NO
NO
3
PNR Status
 YES
 YES
 YES
4
Personalized Trip Alerts
 YES
 NO
 NO
5
Crowd sourced Content
 YES
 NO
 NO
6
Intelligent  App Personalization
 YES
 NO
 NO
7
Fare Inquiry
 NO
 NO
 YES
8
Seat Map
 NO
YES
 YES
9
Predictive Search
 YES
 NO
NO
10
Live Arrival/Departure
 YES
 YES
11
Running Train Speed Check
 YES
 YES
 NO
12
UI friendliness with logically cross-linked cards
Excellent
Good
Okay
Though Ixigo supports Live Arrival and Departure of trains, however, requires the user to enter captcha that gets annoying at times, especially when you are in hurry. The same feature in Disha app doesn't work consistently making these two apps slightly unreliable.
Meanwhile, intelligent personalization, only available in RailYatri app, automatically configures itself based on user location giving access to relevant information at your fingertips e.g., nearby stations, live station status, directions to the nearest station.
RailYatri app also captures the intelligence of daily travelers by predictive search and lists other trains running on the same route, without you having to look for them. Quite smart, that is! The app comes with an entire repository of unique crowd sourced content that is impossible to get any other way.
RailYatri, clearly being the smartest train travel app today, also gives information about disruptions such as cancellation or delay of trains, reschedule and time-table change. It also alerts you about special cases such as additional capacity in trains or special trains around festivals.
My two cents – before hopping on a train, get RailYatri app on your phone and enjoy the hassle-free journey.
An android app for train travelers in India can't be more useful
Rail Wisdom – Don't we always miss some location, food on our last travel only because we were not aware? Now, with Rail Wisdom, you won't miss anything. Rail Wisdom is a crowd sourced feature for travelers to share and seek information from fellow travelers taking the train. It collects the experiences of train travelers and collate it according to trains and stations to help people get accurate information about their routes and destinations.
Rail Wisdom puts all information related to train stations under one roof for instance amenities like wheel chairs, retiring rooms, waiting rooms, station master contact details, hand pushed trolleys etc. It is one of the most unique and widely used features of RailYatri android app. This feature is extremely useful if you are visiting the city for the first time.
Speedometer – We live in a world addicted to speed. Don't we always want to know our speed while running, cycling? Now, it's possible to check the speed of your train too. Speedometer is an advanced feature recently launched in the RailYatri android app that tells you the speed of your train at a given moment. It also tells you if your train is running faster or slower than its usual speed. It uses your phone's in-built GPS to show you your train's speed. The cherry on the cake is this feature allows you to take a screenshot and share it with your friends on Facebook.
Going forward, this app will allow you to share your entire travel experience starting from boarding the train to crossing beautiful landscapes with your friends on the social platforms. RailYatri.in seems to know how much we love to share!
Platform Locator – The panic and chaos that we all go through while locating the platform where our train will arrive is not new for train travelers in India. Keeping in mind the trouble railyatris go through, RailYatri.in has come up with a life-saving idea of introducing Platform Locator on the web and mobile app. Knowing the platform number at which your train arrives, beforehand, reduces the unnecessary run around the railway station with your luggage and speeds up getting on board the train.
Through crowd sourced information about trains arriving at given platforms, this feature will guide you to your platform hassle-free. Users can also easily contribute to this feature by sharing their knowledge with the fellow travelers and help each other.
Platform Locator is already available on the mobile web (m.railyatri.in) and soon will find its place in the android app too. Yes, life could be easier.
Verdict
Overall Indian railways rail yatri is the perfect option for those people who interesting in travelling through train as this app has bunch of features which helps you to enjoy better journey.
We would like to recommend this app to you. Download this app from here 
[starreview tpl=16 style='starscape' size='24']