When we talk about the e-commerce sites, then a majority of the people have a tendency of buying technology oriented products online that includes mobiles, tablets, laptops, etc. Yes, that's the mindset of a layman when it comes to online shopping because you might go wrong with clothes, shoes while online shopping due to sizing issue or appearance factor. But gadgets are the exception as people find it more comfortable while buying devices on eCommerce platform as the folks are aware of the fact that what they see online is the exact thing which they'll receive without any hassle of sizing or appearance issue.
Now keeping the popularity of gadgets in the mind, all the eCommerce companies knows that the pricing of tech-oriented products should be reasonable and consumer-friendly as it is one of the most competitive product categories. So one thing is clear that the gadgets are the most discount intensive product line, but the main problem for a consumer is to find the best deal among hundred of e-commerce platforms. That's where all these shopping comparison sites come into the role as they allow you to search the cheapest price for the particular product by comparing the prices of all the major e-commerce sites.
Like e-commerce, the competition between shopping comparison sites are also high, and there are tons of sites that give you the analysis of best deals across all the retail sites. But to protect our viewers from 'analysis paralysis' we've brought a list of best three shopping comparison sites for gadgets in India so that you can make your decision wisely.
1. Smartprix– One of the Best shopping comparison sites
When it comes to the top shopping comparison sites for gadgets then one can't afford to ignore Smartprix from its list as it is one of the best gadget shopping comparison sites out there. That's why we've added Smartprix at the first position as they have a variety of filters that helps you find a perfect smartphone under your budget. Addition to this, the company uses numerous filters like price, brand, ram, availability, etc that allows you to detect an ideal smartphone, laptop, tablet, or camera with reasonable pricing as per your requirement. Other than Gadgets, they also cater to categories such as books, mobile & laptop accessories, personal care appliances, etc.
2. AspectWise– Nicest Gadget shopping comparison site with Modern UI
Though AspectWise is relatively young as compared to its competitors but we've picked them on pure user-experience basis. In this dynamic era of internet, the team od AspectWise has managed to keep the user-interface of their site quite modern and simplistic that enables the customers to buy gadgets based on their needs and preferences. The company provides the price comparison facilities for electronic devices that include mobile, headphone, laptop, speaker, television, tablet, etc. But what we found interesting about them is the list they provide about best gadgets under a certain price range solely based on genuine user reviews. Shoppers can save their time on research by quickly going through user comments about specific aspects that concern them, instead of reading through full-length reviews. Here you can find one example of those lists "Best Phones for display and audio within 10K range" along with the screenshot.
Addition to this, you can get a full information about a single product along with genuine user opinion and derived ratings of about each dimension of a gadget. Like, here we got to know everything about Honor Holly 2 plus.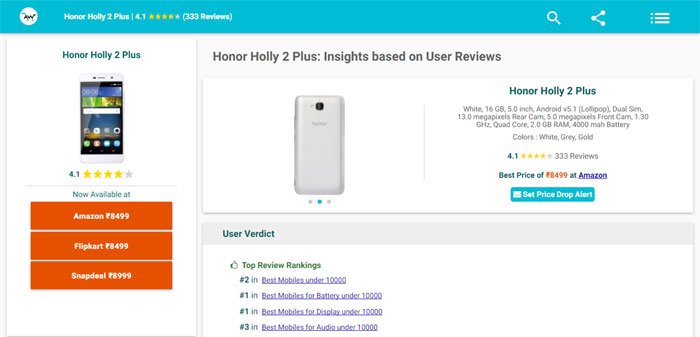 3. MySmartPrice– Finest shopping comparison site for electronics 
When you look at the picture of online shopping comparison business in India as a whole then you'll realize that the Mysmartprice has been the best among its peers. Having said that, the reason why we've positioned them at the third place is because the headline of the article talks about 'The Top 3 Gadget Shopping Comparison Sites' and MSP is not as effective as Smartprix and AspectWise under the gadget category.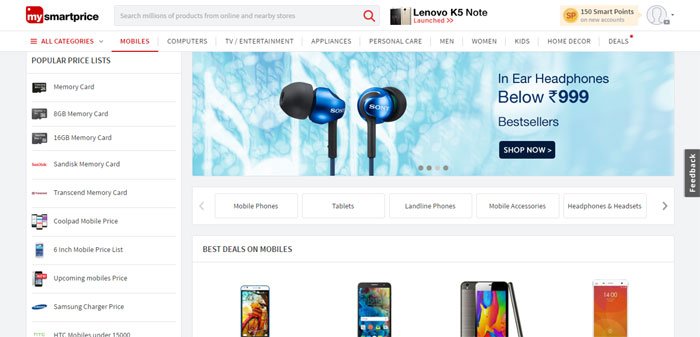 Though, the site cater to categories that includes Mobiles, Computers, TV/Entertainment, Appliances, Accessories, etc. And when it comes to reasonable pricing option and deals, one can easily rely on the offers of Mysmartprice without any hassle.