When you are moving to your new home or redesigning your existing one, the task of choosing an interior designer to manage your home improvement needs comes into question.  You many think interior designers are only for the rich and the famous it couldn't be far away from the truth. You can select your designer to manage your large to small needs.
A great interior designer will chalk down your needs and provide you with a solution to manage your home décor on the budget you want. He can also assist you in managing the timeline. The relation between you and the designer should be warm and friendly and is based on trust. You need to align your personality and style with your design, and décor needs to create a perfect balance. Here some useful checklists which you will give you the best ways to choose an interior designer for your home solutions.
Select Your Style
Almost all good designers will adapt the style and guidelines set by their clients; it's best to choose designers who will make you see your dream project in front of your eyes. Designers who have the natural style and flair along with experience will give you the best solution for your home décor needs.
Check the credentials of your designer
This item should come as a high priority on your checklist while choosing an interior designer. You need to find out whether they belong to any local, national, or international organization, whether they have the relevant qualifications. There are some interior decorators who act as designers, but they are not the same. Finally, look for testimonials from the websites or check for a list of references.
Examine the Designer's Portfolio
You should pay close attention to the designer's portfolio to know about the body of his significant work. This is an important determinant on how to choose an interior designer. You should be looking at more than just the wow factor. Choose the portfolio that reflects your budget and your working style.
Ask your friends for recommendations
If your neighbor or friend had a professional designer to help them with their work, find about their experiences. Contact the designer if you get positive feedback from them. You can also ask your office colleagues for references too.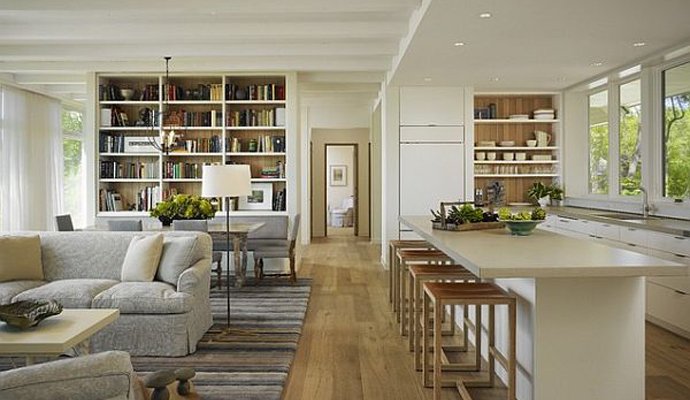 Utilize your local professional organizations
If your local town has a professional interior designer chapter or institute, use their list of members for checking designers. You might have to fill out a short questionnaire form or a short request list to get access to the designer's list in your area.
Effective communication with your designer
It's important to have effective communication with your designer. You should state him clearly what you want in your home. If they are not making the best choices for you, let them know. You should feel comfortable with your designer. You can put together a file of your favorite items and a folder enlisting where you want these items to be kept.
You should follow the rule of three
The general rule is to meet three designers, which is important while choosing an interior designer. Then you can find the like-minded designer for you who will match your personality and style.  You can obviously meet more than three designers you want, but meeting at least three will place you in a comfortable position to judge.
Plan your budget
Plan your budget properly with your designer. Ask him how he will manage the budget of your property. Remember to have your details ready in hand before you proceed to plan your budget. You should come as a designer about the charges they are going to take while executing your project.
Defuse your tensions
A decorator's job is to make a remodeling job easier by implementing your design decisions. One of the best ways of choosing an interior designer is to keep him in close contact with your contractor. There can be some real tension when everyone gets involved in your project. Ask the people to stick to their own jobs rather than meddling in someone else.
Be inspired by the design
These days you can get design inspirations from almost anywhere, and these can lead you to connect with your possible future designer. Browse through design articles and magazines, and you are sure to find your designer. You can also browse through some latest furniture designs and their maintenance equipments. For instance, Watco Teak Oil can be helpful for a long-lasting finish. 
Compare visual proposals
Designs are basically visual. Watch multiple visuals beforehand before you jump in to find your designer. If you have proposals from different designers, it can make the choosing process much simpler and save you a lot of time. You can also your perfect budget beforehand.
Seek sustainability for designs
Green buildings or sustainable eco-friendly buildings are the future for real estates. It will maximize your energy efficiency and reduce carbon footprints. So it's a way to choose a designer who has the required experience in this field.
Sign a contract with your designer
You can always sign a contract with your designer and get your work started in no time. The contract must contain all the relevant details, your work estimate, and services. This is a great tip that you can keep in mind while choosing an interior designer for your house design project.
Choose the best for less
Some interior designers might claim they are best, but you are sure to find someone far more talented for less the price. Interior design students often offer more quality services than some pros on the job.
You don't need to buy everything new
While hiring an interior designer, keep in mind that most interior designer who has a knack of buying everything brand new to make a hefty paycheck. So, you must find something lying around the house like a wasted bathroom cabinet or an old dresser which can do your job.
Understanding these tricks will help find the best designer for your budget and keeping the professional relationship smooth and friendly. You must always remember that while the designers are skilled professionals, it's a business and it should be treated like that. You should always make a comfortable deal with your designer, which will make everyone happy and create an everlasting home design.