Corruption is the often responsible cause, for the loss of data stored in hard disk partition(s) or logical drives, irrespective of which platform is in use. Sometimes, corruption becomes inescapable and devastating, as you no longer hold the access to read or share your valuable documents, media files and emails on your Windows PC. Although, Windows-powered systems have always been doubted for its troubling security issues. So, if you are one of the Windows users, then be wary of the malware that can anytime attack on your restored data files.
However, many reasons could be blamed for the annoying corruption problems that you have been facing on your Windows PC, for e.g. missing partitions, malevolent virus attacks, corruption in Windows file system, careless or improper operations, software failure, damage of partition structure etc.
Sadly, we cannot prevent from corruption, each and every time, and also the fear of corruption cannot stop the lifestyle we adhere to store our data. Luckily there is a quick-fix solution for those critical time when you quickly need to restore your lost data against any type of Windows partition damage.
Kernel for Windows Data Recovery software has the power to restore your important documents, video clips, or the images that have gone lost recently or ages ago. This program is specifically designed to offer fast-and-effortless recovery solution to regain the data from intentional as well as accidental deletion from physical and logical drives or from where the disk formatting has gone wrong.
Here, we are demonstrating the actual functioning and performance of Kernel for Windows Data Recovery software, so that you can attain most out of it – just like that.
Let's Begin from Its Interface
The software features an exclusive GUI design that no longer require the assistance of the experts to retrieve your lost data upon Windows FAT and NTFS corruption.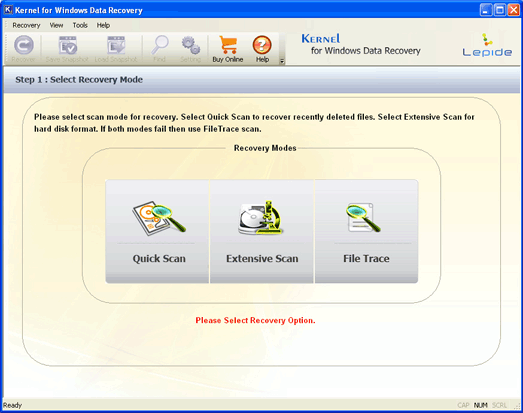 As soon you successfully install and run the tool, it lands you on this pleasant interface. As you can see, it has got neat-and-tidy interface with minimal functioning buttons, so to avoid distraction from the main objective of recovery.
Generally, software interface is the first thing that the user interacts before executing the process of data recovery. From my personal experience, the tool is pretty friendly and easy in operations. In fact, a novice user may not find any difficulty in executing the program, and also it does not pop-up any infuriating upgrades (which is actually so relaxing!).
Jumping to The Recovery Segment
On the main screen, user would be requested to choose from any of the three recovery modes (Quick Scan, Extensive Scan and File Trace) to further proceed for recovery.
Here is the quick and brief functioning of these three modes:
Quick Scan

: It works super-fast for recovering your recently deleted data-files or the media files that has gone corrupt because of boot sector corruption or availability of bad sectors on the disk.

Extensive Scan

: This recovery mode is effective only to extract data file that has gone lost, because of partition deletion, partition formatting or reformatting of hard disk partitions.

File Trace

: It is the slowest yet most effective mode of recovery, as it recovers data in every condition of damage. Ideally to retrieve data that has been deleted long time ago, or suffers from severe corruption issues in any drive or partition. Also, it can perform recovery for any specific type of file (ex .jpeg file to retrieve your photos).
So, select the desired mode depending upon the nature of damage. This is where you can select the desired drive wherein you wish to perform the recovery.
There is also an option to configure software settings to achieve precise recovery results:
Settings of duplicate file(s) (rename, overwrite or skip duplicates)

Sectors to read in a single attempt

Settings for deleted files (include, exclude or recovery only deleted files)

Settings for bad sectors (number of retries)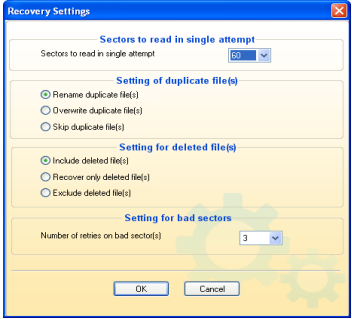 Within a matter of minutes, you can recover emails, videos, photos, Word file, PDF file, Excel file or any other storage file. Below shown are the types of files supported for recovery:
Preview of Recovered Items
One of the best features offered in this program is live preview facility to view recovered items. You can open and read extracted data files within the software interface. Files and folders can be accessed from root folder; a user can select/unselect the folders to view them accordingly. Interestingly, the deleted files are displayed in red color after recovery.
Also, retrieved files can be sorted for preview by different fields like file name, type, size, creation time, and modification time.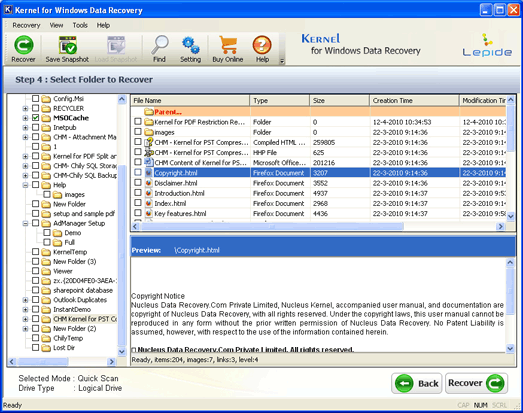 Upon satisfaction, you can save the recovered files to the desired location.
Use the find file(s) option to search any specific file that you need to save on the drive.
Featured Compatibility Support
Minimum System Requirements
Must have Pentium II 400 MHz Processor

Must hold 64 MB RAM (although, 128 MB recommended)

50 MB space required for software installation

Sufficient storage space to save recovered data
Latest versions supported
Windows OS (32/ 64 bits):

10, 8.1, 8, 7, Vista, XP, 2000, 98, NT, 95

Windows Server

: 2012, 2008 R2, 2008 R2, 2003 R2 and 2003
Free demo version:
Kernel for Windows Data Recovery software can be tried and tested on demo version before making the final decision. It only allows you to recover and preview items within the tool. However, the saving of files to the desired location is restricted in this evaluation version.
http://www.nucleustechnologies.com/Windows-Data-Recovery-Software.html
PROS
Instant set-up process

Option to recover data from all types of files systems: FAT 16, FAT 32, NTFS, and NTFS5

Fully-compatible to recover data from flash drives, USB, IDE, EIDE, SCSI, SATA, memory cards and ZIP Drive.

Safe-and-Secured data recovery
CONS
As such no cons, but the trial version puts a restriction on saving of restored files.
Kernel for Windows Data Recovery
Verdict
The program has profound built, and interface to perfectly achieve an effortless Windows data recovery for lost/missing files. It comes geared with advanced recovery features and functions to offer one-stop complete solution to recover files with assured data integrity.