We've seen huge success of Youtube and Facebook as one of the best video sharing & social network website, later we witnessed other categories of social networks like micro-blogging site 'Twitter,' then it was WhatsApp whose user reach forced Facebook to acquire them. Then, we saw a revolution in the photography industry with the arrival of Instagram.
After so many success stories in the social network industry. Many of us must be thought that social networking industry is going to be ruled by these players only. But that was the beginning of the show, then Snapchat came into the picture in 2011 and became popular among the youth as a sexting app. But then its unique image messaging and story sharing feature captured the focus of the mainstream audience. The app is available for both Android and iOS platforms with a user base of over 160 Million.
Coming to the point, earlier we've discussed How To Spy On WhatsApp Messages For Free without any root or a third-party app. Then I've decided whether it will be possible to spy on someone's Snapchat account or not? After few weeks of intensive research, I got to know that as of now there is no loophole in the app to spy on their Snapchat account unless you are using some paid third-party apps.
Yes, you got that right 'Paid.' I know many of you visited this article because you want a cheap solution to spy someone's snapchat account but unfortunately, you can't do this for free of cost.
Note: This tutorial is for informational and educational purposes only. And we are not endorsing any spying software or app in this article, but we want all the parents/guardian out there to aware of these smart apps that can help them in tracking their minor ones.
But surely, there are a couple of quality apps that can surely help you to track Snapchat activities of your kids.
Prerequisites for this method to work;
You need to buy the paid license of any of these apps
You need to physically access the 'Target phone' for at least a minute.
How To Hack/Spy Snapchat using SpyStealth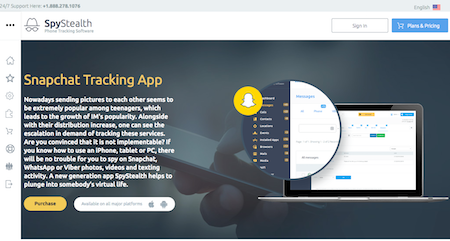 SpyStealth is a quality cell phone monitoring app that helps you in spying on Snapchat by recording all the phone activities of the 'Target device'.
Things you can spy and access;
The app lets you save the media files which can be viewed at any time using SpyStealth's online control panel.
The app also allows you to view and save all those stories which are there in the Snapchat account for 10 seconds only.
You can also spy on the text, screenshots, gallery, location, GPS location, voice messages along with the time-stamp of each activity.
In case you don't know, the app also enables you to spy on WhatsApp, KIK, Skype, Viber.
Compatability; Works on major platforms that include Android and iOS.
Use Coupon '

20OFFDU

' to avail 20% discount on purchase
How To Hack/Spy Snapchat using mSpy
mSpy is relatively established as compared to Spystealth in the market. Having said that, the app is more or less similar to Stealth.
Things you can spy and access;
The app easily keeps track of all the photo, text, and video messages that are sent and received on the target phone.
It can easily track the location of the target device with GPS tracking.
It also lets you monitor other popular apps like WhatsApp, Facebook, Skype, etc.
Compatability; Works on major platforms that include Android and iOS.
How to Hack/Spy someone's Snapchat account via SpyStealth/mSpy (3 easy steps)
Remember, the functioning of both the apps is similar. And that's how you can utilize them to track.
Step 1: Purchase the paid license and get the login credentials.
Step 2: Install the spy app (SpyStealth or mSpy) on the target phone.
Note: Don't worry the victim won't be able to see the installed app on his/her device and you also don't need to access the target device from time to time. It's cool, isn't it?
Step 3: That's it, now login to your online account to track the Snapchat activities on the target phone via control panel provided by monitoring software.
Which one to buy?
Well, both the apps works pretty well and are surely value for money. But pricing plans may vary on both the platforms. And also the basic plan for both these platforms won't give you access to spy on Snapchat, WhatsApp or other IM app. So it is advisable and important for you to purchase any plan higher than the basic one.