Camping is an outdoor activity that is being practiced all around the globe. Camping involves overnight stays away from your home. You carry some essential things and stay overnight in the way where your final destination shall be decided. Generally, people leave towns and go somewhere out of town for camping. There are a number of places all around the world for people to go camping. Camping is an activity that everyone wishes to do especially in a life full of work pressure and hustle. People during their vacations plan going out of the town. Either they go for entertainment or for eternal pace. As camping is done in areas far away from the city, people get to see nature and feel inner peace. Camping areas are mostly in mountain areas or areas which are quiet and calm. People take the essential stuff and camp in such places for a great adventurous experience.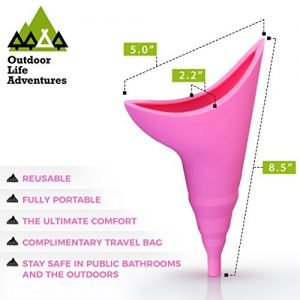 Camping is not just limited to boys or men. Women and girls are also into camping and there are certain things that will be helpful for you during camping. First, let us discuss the most common problem associated with tent camping:
Building a fire: There is always a problem of gathering wood or sticks to start a fire. An experienced camper can start a fire but the main issue is to gather the resources like wood and kindling.
Pitching the tent: Every experienced camper knows it very well how difficult it is to set a tent. You must know that you need to find a place for tents. The place should be found before sunset and you should have the right information to pitch a tent.
Animal Precautions: If you are camping in a forest area, you will have some unexpected guests. In a forest, there are a variety of animals and insects. Your tent should be fully covered to prohibit entry of these unexpected guests.
Urination difficulty:  Urination is also one common problem faced especially by women during coming. It is advisable for women to carry one of the pee funnel along. This funnel will ease the process for you during camping.
Now moving forward, Talking about women in specific, urination has always been an issue for them. During camping outside in the forests or mountains, women face a problem while passing urine. But this is no more a problem as a funnel has been discovered to ease the urination for women. These funnels are called FUDs. These are funnel-shaped or straw- shaped plastic extenders. These extenders allow women to pee like men. This can be done by standing and wearing pants or while climbing a harness.
The FUDs come in a wide range of sizes and shapes and these are available online on various shopping sites as well. These are affordable funnels which you can buy from anywhere and these should be carried along. While camping in areas away from the town, these are proved to be the best solutions for passing urine.
There are two main types of FUDs namely Disposable and Non- Disposable FUDs.
Disposable FUD's are basically made of a durable paper or cardboard material. These are also occasionally flushable and are invented for temporary use. These are recyclable and easy to use. If you wish to try a FUD for the first time, you will surely want to go for a Disposable FUD.
On the other hand, Non- Disposable FUD's are made of plastic or latex and are made for reuse purpose. These FUDs last for a longer time than the Disposable FUDs.
Try it once before buying the right one for yourself. And do not forget to carry it along with you especially while planning a camping.