If you are planning to make money online or if you want to start an online venture in India, then PayPal would be foremost important things for you.
In simple terms, PayPal is like a virtual bank account through which you can send or receive money instantly all over the globe. At the same time, it is considered to be one of the most-trusted services to send and receive payment.
Also, a majority of the advertising networks and freelancing websites pay using PayPal, so it's essential to have a PayPal account if you are blogger or freelancer.
Here I will be showing how to create and verify PayPal account in Indian step by step (2017):
Step 1: At first, visit the PayPal India link (Paypal.com) and click on 'Sign Up' button.

And now, you need to select your preferred account type from 'Individual and Business Account'.
Step 2: Here you need to enter your name, email address, and password to continue.
Step 3: Now you have to fill detailed form as shown below and then click 'Agree & Create Account'
Step 4: Here you will be asked to link your Credit or Debit card. You can add them if you have your card details or you can also add them later on by clicking 'I'll link my card later'.
Step 5: Now your PayPal account is created and here you have to click on the bottom link 'Go to your account' as shown in the image below:
Step 6: Now you have to confirm your email account. You can do this by clicking on 'confirm email'.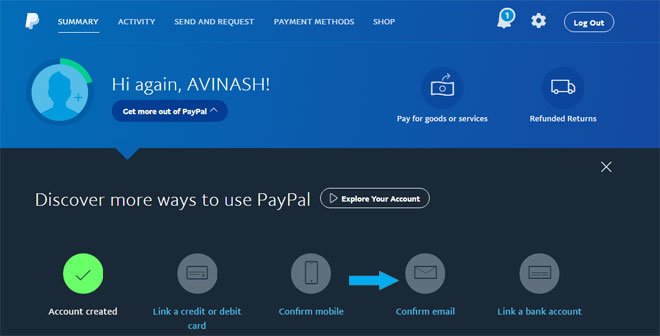 Check your email for the activation link from PayPal & activate your account.
Note: For added security, you can also confirm your mobile number.
(Verification Part)
Step 7: Next, it will ask you to add bank account details. Simply, click on 'Link Bank Account' and then you have to add the bank account number & IFSC code. Using your bank details, PayPal sends 2 small deposits somewhere between Rs.1 to Rs.1.5 in your bank account.
Now check your bank account and provide the exact value to confirm the account.
Step 8: Now you have to add your PAN card so that your account will be verified. Remember: your name in PAN Card should be same as in your bank account otherwise it will not work properly.
Step 9: Now you have to add the purpose code for your transactions. In simple term, this code helps RBI to identify the type of transaction that is taking place. For example; if you are receiving payment for advertising and affiliate commissions, select "Advertising and market research" or select what is appropriate for your transactions.
However, this will be your default purpose code for further transactions, and at the time of withdrawing money from your PayPal account, you can select any other.
Step 10: Finally, you have to link your credit card/debit card with PayPal account. You can do this simply by clicking on 'Link a card'. This will enable you to purchase online through PayPal mode.
But here is a catch for some debit card holder, if your debit card is not eligible for international transaction. You'll see this notice: "The bank that issued your card didn't approve this transaction. Please contact the card issuer's customer service department if you have any questions. Or you can add a different card now to continue."In that case, you need to call up their customer care and ask them to enable the international online transaction.
Remember: You can change or edit your card details any time in future.
Finally, your PayPal account is created and successfully verified.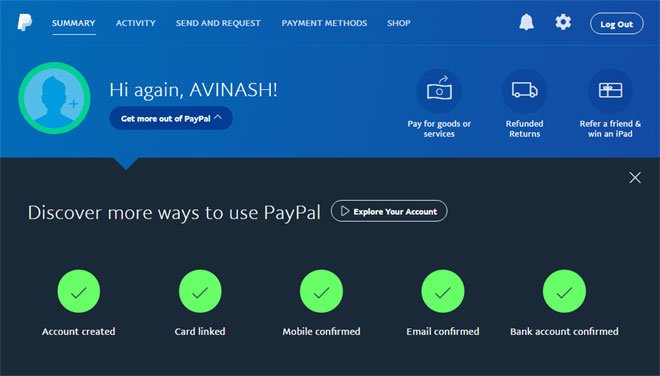 I hope this guide helped to create and verify your PayPal account. Also, if you have any query or suggestions related to PayPal, let us know via comment.