Keeping a tab on high Internet data bills and usage is one big task every user need to manage. It becomes more complicated when you have a lot of apps installed on your device which runs continuously in the background causing high data usage. To deal with it, you can manually set the data limits for your device, or you can use one better tool called "Check Data Usage" for optimized internet experience.
Features
Home Page: You can find all the features of the app on the home page. It also displays the data consumption details using Mobile data and Wi-Fi. You can find current data usage and total data usage in details.
Set Data Plan: Using this function you can set the data plan to optimize your Internet data consumption. To set data plan, you need to mention data limit and days to initiate a new plan. Here you can choose from pre-defined days or select them manually from the calendar. It helps you set alerts for your maximum data usage limit. For example, you can get alerted from the app at the usage of 900 MB when you have set data plan for 1 GB. By default, it alerts you at 90% completion of data limit. By activating "Show Wi-Fi in Notification" option, you can see Wi-Fi data usage in the notification window.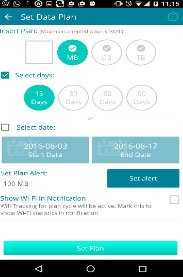 Optimize the Internet: This function helps you optimize your Internet data usage. It helps you clean your device RAM by shutting down all active services on your device which are using the Internet. This single click option helps you speed up your device performance significantly.
Clean Cache: When you browse or perform other activities on Internet, it creates a lot of cache files on your device. Using this function, you can clean all such cache files to improve device's performance.
RAM Clean:  You can use "RAM Clean" option to stop all active services on RAM. It will stop all apps running in the background irrespective of the fact they are using Internet or not. This way you can speed up device performance.
Data Use Chart: This is a useful addition to this app which helps you manage and set your Internet data plans in a much better way. It displays detail analysis of your Internet data usage for Mobile data, Wi-Fi and both for the active Internet plan.
Summary
Data Summary: Data summary shows your total data usage from the time of installation of this app on your device to present date. You can find monthly, quarterly and yearly details of both mobile data and Wi-Fi data usage.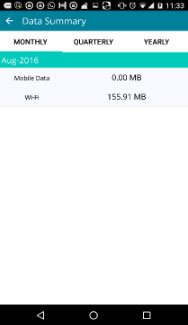 Plan Summary: You can manage your Internet data plans based on plan summary. It displays all your expired data plan (s) details.
Usage by App: It displays Internet data usage by individual apps or other services categorically. It includes both mobile data and Wi-Fi data usage. This way you can better manage your resource hungry apps.
Tips: It includes some useful tips and tricks to optimize your internet experience.
Settings
Basic Settings
Daily Data Usage Limit: Use this option to set maximum daily data usage limit.
Reset to default: Use this option to clean all plan details, summary reports to restore default settings.
Notification Settings
Show Data Usage Notification: Choose this option to notify data usage status in a status bar.
Data Usage Notification Cancelable: Mark this option to set notification toggle cancelable.
Notify daily limit exceeded once per day: It will notify you once in a day when you exceed your set data limit.
App Exclusion List: Use this option to add or remove any app in the exclusion list. It will help you remain selected apps untouched when "Optimize the Internet" option is activated.
Tutorial: It provides information about the app and how it works.
This app offers all advanced features to keep a tab on your Internet data usage. It offers various useful features to optimize your Internet data usage experience. Using this app, you can avoid heavy Internet data bills. Above all, it gives you peace of mind. We highly recommend this app to users around the world.
You can download the 'Check Data Usage' on Google Play.