Are you going to join a new semester in the engineering college?
If yes, then you must be aware of the requirement of a competent laptop that could hold all your complex engineering college projects and assignments for all semesters.
If you already found the best-suited laptop for yourself then all the best for your engineering journey but if you are one of those who are still struggling to identify the best yet affordable laptop then you will get no better place than this article to find the suitable laptop based on your needs, requirements, and most importantly budget.
So here we've compiled a list of best laptops for engineering students in 2020 across segments after doing extensive research by analyzing numerous articles on the internet, reading verified user-reviews, discussing with experts for hours.
But before heading to the list of laptops, we need to understand the kind of factor that one should consider before selecting a laptop that could meet the requirements of an engineering student.
Factors To Consider and Things To Look For In The Best Laptop For Engineering Students and Engineers
Durability: There is no point in spending money on a powerful laptop which doesn't last for 4 to 5 years. Since you are still in your educational phase, so you might be tight on budget and probably managing your expenses due to educational loans. That simply means you can afford to spend a hefty sum of money on a laptop more than once in a span of 4 year period. So, durability is the most important factor while selecting the best laptop for engineering students.
Pricing (neither low nor high): Here you need to understand that you are not some fine art or commerce student. So you have to spend a certain sum of money on a good quality laptop that could last you for all your semesters. See, you are not buying some laptops to write some creative articles or preparing excel sheets. Since you are an engineering student, you will be doing some complex coding assignments or extensive projects on your system for all your college life which means neither you go short on budget nor high so you must keep it at between $700 to $1000.
Processor: Here comes the extremely important aspect while selecting an appropriate laptop for a college student. Since you will be writing complex algorithms and doing programming all day long, your system will be demanding loads of processing power. Here we advise you to go for laptops with more cores and high-end GPU so anything among Intel's Core i7 or Core i9 or AMD's Ryzen 3 or Ryzen 5 would work well.
Compactness: Since you are a college student and will be dashing between classes all day long, you'll need a laptop that you can easily carry in your backpack and at the same time that won't be discomforting to your shoulders. So it is advisable to go for a laptop with ergonomics of around 13-inches and 3 to 5 pounds.
Best Laptops For Engineering Students
1. Acer Predator Helios 300 (Best Value)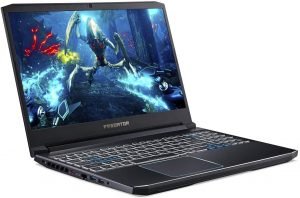 If you are planning to buy a laptop with the right balance of everything then Acer Predator Helios 300 is the prime product on the list. The Laptop comes with a 3.8GHz 7th generation Core i7 processor powered by 6GB of DDR4 RAM  along with 256GB SSD running GeForce GTX 1060-6GB graphics card. All of these specifications are superior enough to easily handle all your CAD work, computation software, C++, Revit, etc.
The system can easily offer up to 7 hours of battery life that is sufficient for your whole day in the college and its 15.6″ Full HD (1920 x 1080) widescreen IPS display delivers the amazing experience of casual gaming and multimedia. So if you are tight on budget and still looking for a complete powerhouse device then Acer Predator Helios 300 is a perfect choice.
2. Lenovo ThinkPad P52 (Best Overall)
If you are seeking desktop type performance level from your laptop then Lenovo ThinkPad P52 is the suitable option to serve the purpose. It is equipped with an Intel quad-core i7 processor, 32GB of RAM and a 1TB SSD that can easily handle the complex 3D modeling and machine learning programs. To ensure performance proximity with desktop, Lenovo has also designed the display aspect featuring a 15.6-inch HD display which offers enough space for running multiple applications simultaneously.
And what we really liked about ThinkPad P52 is its compactness even though it features a heavy processor and this particular fact makes it a student-friendly laptop.
3. HP Spectre x360 15T (2019) (Best Design)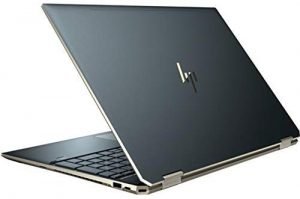 The HP Spectre x360 is the powerful and stylish looking compact laptop made by HP. It is equipped with all sorts of advanced specifications that any power user could ask for. It is powered by the 8th generation Intel Core i7 processor with RAM support of 16GB DDR4. Talking of display, it features a sharp 4K display touch with a screen size of 15.6-inch, 3840 x 2160 pixels. To ensure the proper handling of the complex and power-consuming task, HP has added powerful Nvidia GeForce GTX 1050Ti graphics to the Spectre x360 15T.
So, if you are willing to stretch your budget and looking for style and performance under one roof then look nowhere else as HP Spectre x360 15T is an appropriate option for you.
4. Razer Blade Stealth 13.3 (Best Compact)
If portability and performance are your only priority then Razer Blade Stealth 13.3 is the thing you would want to explore more about. The laptop is considered to be one of the finest in the market when it comes to its gaming strength but it can easily cater to the demands of computational software by utilizing its 1.8GHz Intel Core i7 processor that can easily Turbo Boost up to 4.0GHz. Its 512GB of SSD storage and 16GB of RAM simply make things even better when it comes to handling multiple tasks at one go.
In addition to this, its advance display specifications make things interesting as it comes with QHD+ display with viewing angles up to 178 degrees, the 3200 x 1800-pixel touchscreen resolution makes the whole viewing experience phenomenal. With a battery life of up to 10 hours and weighing only 2.98 pounds makes it an ideal solution for any engineering student who is looking for a powerful laptop with the essence of portability.
5. Microsoft Surface Book (Best 2-in-1)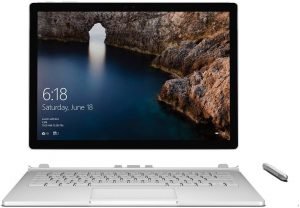 If you are a fan of a 2-in-1 concept then Microsoft Surface Book is no brainer as it offers everything an ideal laptop should offer. The surface book is powered by an NVIDIA GeForce GTX 965M graphics card with 2GB of dedicated memory and comes with a 2.6GHz Core i7 processor with 16GB of RAM and 512 GB hard drive. All these specifications make the device pertinent to carry those heavy AutoCAD files easily.
Apart from that, the surface also features a 3000 x 2000-pixel, 13.5-inch touchscreen display with finest viewing angles which makes Surface a perfect choice for multimedia tasks On top of everything, the Surface Book also offers 16 hours of battery life which can easily run heavy 3D modeling programs at one go. If you are into the design field, then Surface Pen makes the whole 2-in-1 table-ready detachable experience wholesome.
Conclusion
You can't go wrong with any of the laptops mentioned above. Depending on your preference, you can pick the best one for yourself. All the listed products are best in their own segment and can't be compared with another on one to one basis as we've picked only the best laptops of dynamic range.