Coffee lovers across the world can't wait to start their day with a steaming hot cup of espresso. Espresso is well-loved globally, and both the casual and die-hard coffee drinkers can attest to its deliciously creamy and thick nature.
However, with rising prices and a slight decline in the quality of espressos being sold, espresso lovers are seeking new alternatives. One of the most convenient and cheapest ways to enjoy your espresso when and how you want it is to own an espresso machine.
Buying an espresso machine is different from shopping for a new electric kettle. There are several factors to consider, from the type to price, to durability to speed. So, if you are looking to buy an espresso machine and you are swarmed with options, then worry not! Our 2020 espresso buying guide will help you select the perfect espresso maker.
But before that, let's take you through a quick brief of the different types of espresso machines.
So, how is an espresso different from a regular coffee? The main difference is the pressure at which the espresso is brewed — basically, the espresso machine forces boiling water at a pressure of 9 bar through fine ground coffee. What you get is a creamier and thicker coffee with higher caffeine content.
Types of Espresso Machines
As mentioned earlier, there are various types of espresso machines. Each with its unique perks and quirks.
Air Pump Espresso Machine
This espresso machine is relatively new to the market. It brews espresso by creating the required pressure needed to bring the water to a perfect boil, with the aid of compressed air.
The water needed for this machine is supplied manually by a thermos flask or a kettle; while the required pressure is provided by hand-pump, electric compressor or by N2 (Nitrogen) or CO2 (Carbon dioxide) cartridges. When the hot water is ready, the air pump transfers the water to the beans.
Steam Driven Espresso Machine
The steam-driven espresso machines were the first set of espresso machines to be manufactured. They work by making use of steam pressure to boil water and transfer the boiled water into the coffee beans.
Piston Driven Espresso Machines
Also known as Lever-Driven Espresso Machines, they are manually operated and work through the aid of a lever, which is used to create pressure for the water before sending it into the ground coffee.
Pump Driven Espresso Machines
Pump Driven Espresso Machines works with the aid of an electric pump, which helps to build up the required pressure needed to boil the water.
Also, Pump Driven Espresso Machines are superior to other types of espresso machines since they can directly control the temperature at which the water boils. They are available in three different models: automatic, semi-automatic and super-automatic.
Best 7 Espresso Machines To Buy In 2020
1. Breville BES870XL Barista Express (best overall)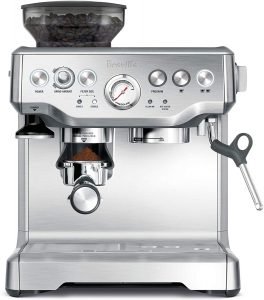 This semi-automatic espresso machine brews quality espresso. This machine is easy to use and is an ideal fit for both beginner and expert espresso makers. Also, it comes with a detachable built-in bean hopper, that makes it easy to clean and refill the burr grinder.
This espresso machine is 16 inches long, 12 inches deep and 13.5 inches wide. It also has 16 grind-settings that helps it to perfectly grind coffee beans to the right size. This machine features a 1600-watt thermocouple heating system that jump-starts the machine for quick boiling.
Features:
Stainless Steel Steam Wand

Stainless Steel Casing

4 single pressurized and non-pressurized filter baskets

A water tank

Built-in burr grinder

Bean hopper

Integrated PID temperature control

A water filter
Pros
* It has a 67oz water tank that has an optional filter.
* It has a tamper and a frothing pitcher.
* Has a filter with an indicator
* Compact, strong and small
* Very durable
Cons
* The built-in grinder gives room for ground coffee beans to get into the drip tray.
* It is amongst the most expensive expresso maker
2. DeLonghi EC155 15 Bar Pump (best under $100)
This machine delivers perfect espressos in only a few minutes. Also, it works perfectly with either beans, coffee or pods.
Features:
Water storage tank

8 x 10 x 11 Dimension

A thermostat

A cup warmer

Milk frother

Frothing wand

Filter system

Removable drip tray

Black metal and plastic design
Pros
* It's compact and handy
* Easy to use especially for beginners
* Affordable
* It is durable
Cons
* Doesn't accommodate long sized coffee cups.
* Can only deliver one hot shot of water at a time.
* Needs frequent descaling to avoid clogging.
3. Breville Barista Touch Espresso Machine (best if you have a sizeable budget)
This semi-automatic espresso machine has a built-in grinder, an automatic milk frother, and pre-programmed café menus. This machine is a fast and reliable espresso brewer.
In just three brewing steps (Grinding, Brewing, and Milking), you can brew the perfect espresso, while adjusting the temperature, milk content and coffee texture of your espresso at the same time.
Features:
A transparent touchscreen used for inputting any drink recipe of your choice.

Automatic milk frother 

A built-in conical burr grinder

Auto steam wand

Stainless Steel body

67oz capacity water tank

14.5 x 16.7 x 17.6 inches dimension

1680 watts ThermoJet heating system

54mm stainless steel portafilter that has two single and two dual-wall filter baskets

ClaroSwiss water filter
Pros
* It is user-friendly.
* It is convenient; doesn't take much space on the counter
* You have the option of brewing the default way or creating and saving your personalized recipes. It can save as many as seven to eight recipes.
* It is easy to clean.
Cons
* It is expensive
4. Gaggia RI9380/46 Classic Pro Espresso Machine (best under $500)
This espresso machine features a stainless-steel housing, a commercial steam wand, a high-voltage boiler and a chrome-plated brass filter which allows it to maintain a steady temperature. This Italian espresso machine is a sturdy, ruggedly built and robust espresso maker.
Features:
Stainless Steel casing

Detachable 72 oz. capacity water reservoir

55-watt electric pump

14.25 x 8 x 9.5 dimension

Heated cup warmer that can heat at most 5 cups at a time

58 mm filters

Steam wand

1425 Watts heating system
Pros
* Commercial size
* Easy to use
* User-friendly
* Inexpensive for its features
Cons
* Cannot work with tap water, only bottled/refilled water
* Lacks a grinder
5. Wacaco MiniPresso GR (best mini)
Known as one of the smallest espresso machines in the market, what it lacks in size, it makes up for in productivity. Although it lacks the luxury of an in-built water tank and grinder, this cylindrical beauty is capable of brewing decent espresso.
Features:
A scooper

A cup

Shot basket
Pros
* It is affordable
* It is a manual machine; hence you can control the whole brewing process.
* Can fit into any kitchen space.
* Very portable. You can leave your house with it tucked in your backpack
* It is easy to clean
Cons
* No built-in grinder or water tank
* Lacks a water heater.
6. Nespresso ENV150GY VertuoPlus Coffee and Espresso Machine (best pod machine)
This grey colored VertuoPlus machine offers coffee lovers a sleek, quality and delicious espresso and cappuccino brewing experience. This one-touch operational machine can heat up and brew coffee in less than 15 seconds.
Features:
Centrifusion brewing system

Nespresso capsules

1350 watts heating system

5.6 x 16.2 x 12.8 dimensions

Auto shut off

Detachable drip tray

40oz capacity water container
Pros
* Works with two capsule sizes
* Easy to use
* Easy to clean
Cons
* Works with only Nespresso Vertuo capsules.
7. Flair Espresso Maker – Manual Press (best manual machine)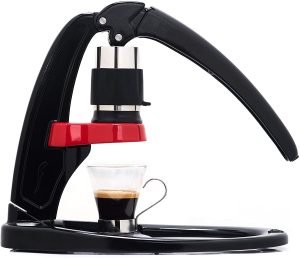 This is a manual espresso maker for those who crave their espresso the old-fashioned way. This espresso maker is completely manual, giving the brewer a chance to precisely brew espresso the way they love it.
Features:
Detachable brewing head

Stainless Steel lever
Pros
* Small and easy to carry
* Easily de-compartmentalized into four parts
* Easy to clean
* Brews faster
Cons
* No built-in grinder
Conclusion
Whether you like your espresso, strong, smooth or creamy, these espresso makers will do justice to your espresso cravings. The ideal espresso maker for you will depend on your budget, your personal preferences and how much of the brewing you want to be involved in. So, if you are in the market for a new espresso maker, you definitely cannot go wrong with any of the seven espresso makers listed above.